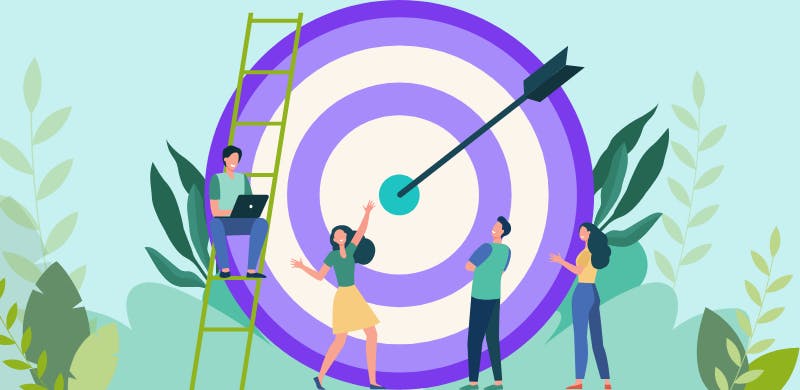 How to Achieve your Business Goals with MoreApp in 2022
New year, new opportunities. Companies will have set new business goals for 2022. How to achieve these goals? Find out how MoreApp's digital forms can help you accomplish these goals.
What better way to start the new year with brand new plans and ideas, implementing new strategies, and improving efficiency. For your company, this could mean you start working with new tools to optimise the way you work. After the Climate Change Conference, COP26, many companies will make sustainability more a priority. MoreApp is one of the tools you can use to reach these goals by eliminating paper forms and improving your company's ecological footprint.
Focus on improvements and optimisation
Set targets for your company and meet these targets with better workflows for your business. Your company can focus solely on improving processes, increasing sales and customer satisfaction.
"We use MoreApp for the hiring process of new employees, which saves us a month's of work on a yearly base. Optimising the HR process goes smoothly thanks to MoreApp's workflows"
Charlotte
Wildlands Zoo
Achieve your goals with MoreApp
Whether your goal is to optimise your work processes, increase employee satisfaction, or reduce paper forms, MoreApp can help you to achieve those goals.
MoreApp is offering a no-code platform to help you digitise your processes and create your digital forms. Replace all your paper forms with our digital forms, which you can create yourself or use one of our ready-to-use templates. Integrate MoreApp with other tools like Google Sheets, OneDrive, and Instructions and get even more out of MoreApp. This will allow you to optimise your organisation, as well as your administration.
"A great alternative to expensive and time-consuming administrative tasks. MoreApp allows us to quickly create new forms and share them with all of our stakeholders worldwide."
Max
Flixbus
Why MoreApp?
Excellent customer support in seven languages (EN, NL, ES, FR, DE, PT and BR);
Improve your security standard. MoreApp is ISO 27001 certified;
Digital forms are an eco-friendly solution if you want to focus more on sustainability;
Our numerous widgets make it possible to collect required personal and detailed information;
Analysing data becomes easier by integrating your other tools with MoreApp;
Use the app with or without an internet connection.
"I believe MoreApp's customer service is one of the best. The quick replies from the team are highly appreciated!"
Christina
Siemens
Ready to improve your processes and reach your goals? Try MoreApp for free during our trial period.