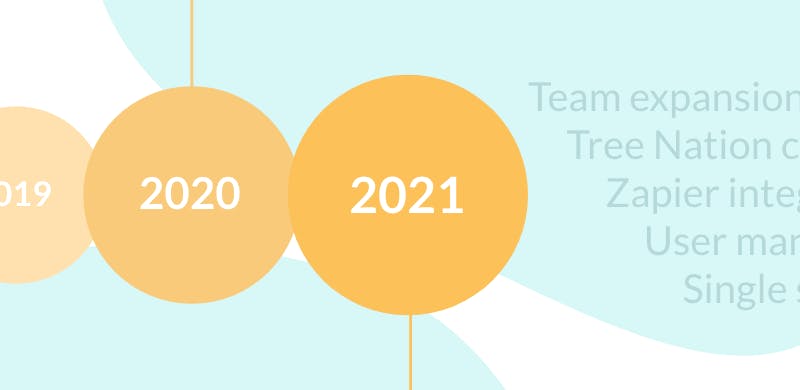 2021: A Year in Review for MoreApp
2021 hasn't been the easiest year for many companies, but at MoreApp we like to end the year on a positive note. Small or big changes, we are proud of all milestones we accomplished in 2021. Take a look at MoreApp's year in review and find out what we have in store for 2022.
🌳 Planting Trees with Tree-Nation
We introduced a new collaboration at the start of this year. In collaboration with Tree-Nation, we decided it is time to give back to nature. For every subscriber at MoreApp, we plant a certain amount of trees in the MoreApp forest in Madagascar. This way we offset emissions and contribute to reforestation. Tree-Nation includes and supports the local communities with their projects. Project Eden in Madagascar creates job opportunities for the local community and helps to protect wildlife and endangered species.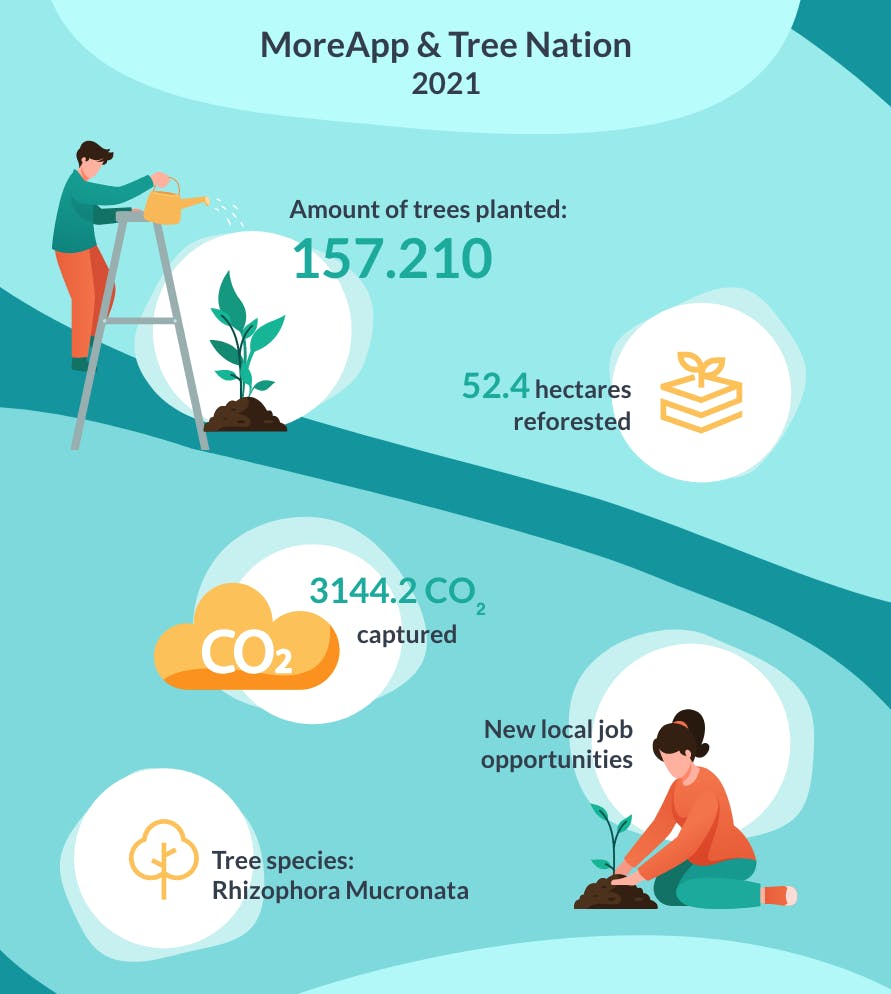 🧾 Popular New Templates
The pandemic showed the importance of organised and well-arranged paperwork. Suddenly, health checks became mandatory. Our Health Checklist was soon to be one of the most used checklists of the year, which gave customers like HelloFresh a way to easily anticipate. Our Covid-checklist made it possible to check the health of your employees and visitors to make sure to be in line with the government guidelines.
Another template that proved its worth this year has been our confirmation of the delivered goods template. With many people ordering online, it has never been so important for businesses to keep track of the delivery status. The efficiency and simplicity keep both customers and employees satisfied.
📣 Our New Feature Single Sign-On
User management has become a lot easier this year for our enterprise customers. The release of our new feature single sign-on, which is now part of our forest plan, has contributed to this. Single sign-on allows end-users to log in with their company credentials to our app, Platform and Web App. How to get started with single sign-on? Speak to one of our experts and find out more.
🔓 Improved User Management
Our User Management got an upgrade. Our new User Management makes it possible to give users specific permissions. This way the administrator can grant a user permission to modify forms and folders, instructions or administration. From this year it is also possible to manage users for each form. In case you need some extra help with our User Management, check this page out.
👥 Team Expansion
Our team works hard to keep improving our product and creating new features. In order to do so, we need all the extra hands to make this possible. We are delighted we have been expanding our teams around the world. A warm welcome to our new colleagues in Rotterdam, Berlin and Barcelona who are now part of the MoreApp family. Teamwork makes the dream work, right?
👷‍♀️ New Partner Program
We have introduced a new partner program that we are very proud of. A partner helps other businesses to optimise their processes with MoreApp's digital forms. In return, MoreApp facilitates an international network of customers and partners. We have two types of partners: technical and solution partners. While Technical Partners focus on building integrations and workflows, Solution Partners offer help with building forms and reports. Want to become a Partner?
🛠Zapier
Automating workflows, yes please! Connecting other tools using Zapier is now possible. With a simple configuration, you can integrate your digital forms with many other apps. You can use Zapier to send files to OneDrive or create a workflow for Instructions. There is no coding required when using Zapier which makes it easy to work with. Zapier is the most valued integration by our customers.
What to Look Forward To in 2022?
We have many things in store for the upcoming year. While we can't share all the good news yet, we strive to become the leading no-code digital form platform. Therefore, we continue to invest in our growth and in a high-quality product. Keep an eye out on our blog for more information about what's new for the upcoming year.
Got excited to try out MoreApp's digital forms? Try MoreApp with our free trial period.