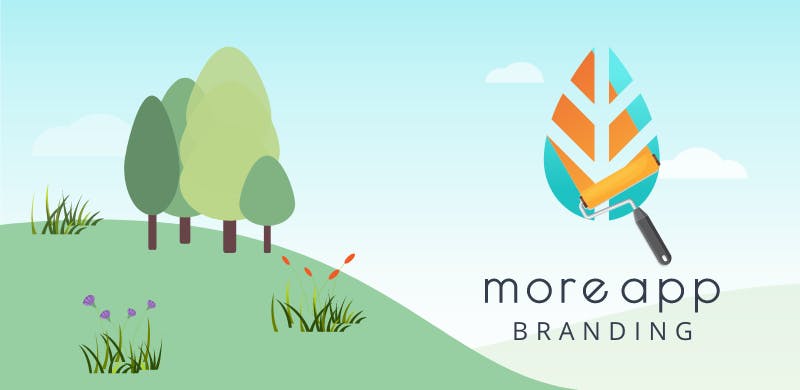 New Forest Feature: Free Branding
MoreApp has a surprise for our forest plan customers! We now offer the Branding module for free for all our customers with the forest subscription.
With the Branding Module, we offer a personalised experience that increases your company's visibility and accountability. Your own app will be released in the App Store or Google Play Store with your own look and feel. This means the MoreApp colour and logo will be replaced with your own company's colours and logo. Customers will easily recognise your brand. The Platform and Web App will be shown in the same colours and logo as the app.
Professional Look
MoreApp customers who have been using Branding already, are very excited about this feature. It gives your company a professional appearance. It will almost look like you have created your own app. The Platform and Web App will run on their own domain, which can be configured to your own company domain (like: platform.my-company.com). Besides that, emails will not be sent via the MoreApp domain but with your own company email address.
"It is important for us to give the app the Exellior look and feel, which is why we opted for the branding module. It feels like it's our own app."
Exellior
Training & coaching company in The Netherlands
"We fully personalised MoreApp with the Branding Module. We now have our own app with our logo on it."
Grupo Soul
Patient healthcare group in Colombia
Partner Program
Our partners are also fond of the Branding module. It's a big plus in reselling MoreApp to their customers. Read more about the partner program.
"For years we have been using MoreApp to build registration apps. We can collect all registered data, can provide dashboarding and we can send automated instructions based on Excel files. The Branding Module offers us the possibility to distinguish ourselves."
Informapp
Software solution company in The Netherlands
Interested in Branding?
What to do if you're interested in Branding?
Check out the guideline for a branded app, to see what we need from you in terms of texts and images to launch your apps, Platform, and Web App.
Fill in this form to upload the necessary images and texts.
We'll schedule a call with you to discuss the input you've sent us.
Our designer will design the images.
After that, our development team will launch your Branding module.
Then it's your turn to work on the branded emails and set up your MailChimp and Mandrill accounts.
Ready to personalize MoreApp?