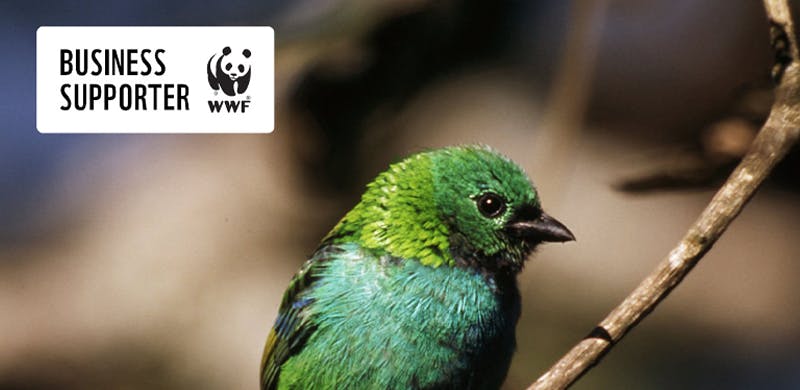 MoreApp contributes as a WWF Business Supporter
We are proud to announce that MoreApp is now a WWF Business Supporter. It is WWF's mission to create a world in which people live in harmony with nature. What does it mean to be a WWF business supporter and why is this important to MoreApp?
Protect and Restore Nature Worldwide
People are intrinsically linked to nature. A vital and resilient ecosystem is important for the next generations. That's why it's so important to protect nature. WWF provides a positive contribution to climate and biodiversity. The project we support is located in one of the most biodiverse ecosystems in the world and home to many endangered species: the Atlantic rainforest. The Atlantic rainforest stretches out over Brazil, Argentina and Paraguay. With this project, we actively participate in forest restoration.
"Forests and oceans are vital to our planet and human well-being. Some companies try their best to preserve nature. MoreApp is one of them. As a WWF Business Supporter, we contribute to making a positive impact on people and our planet."
Thom Bokelaar
CEO MoreApp
Give Back to Nature
With our help, WWF restores balance in nature. A forest is a balanced ecosystem of trees, plants and animals. Unfortunately, this ecosystem often has to make way for farming. The endemic species living in these areas, such as the jaguar, see their natural habitat disappear and are threatened with extinction due to hunting. Reforestation ensures a natural recovery of this habitat. How will WWF accomplish this?
Forest restoration → WWF helps to conserve and restore the rainforest by supporting landowners financially.
Land purchase → WWF purchases land and turns it into a nature reserve instead of being used for agricultural purposes.
Species protection → WWF collaborates with the local population to raise awareness about the importance of a healthy rainforest. This prevents illegal logging and hunting.
Why Does MoreApp Support WWF?
Reducing paper waste by providing digital forms has been a key aspect of MoreApp's mission. By planting trees for our subscribers with Tree-Nation we fight deforestation even more. As a WWF Business Supporter, we also contribute to more reforestation projects in the Atlantic rainforest. Together we contribute to a more sustainable world!
You can also commit to this great cause as one of our customers. Do you want to help rehabilitate forests and restore our planet? Try MoreApp for free with our trial period.