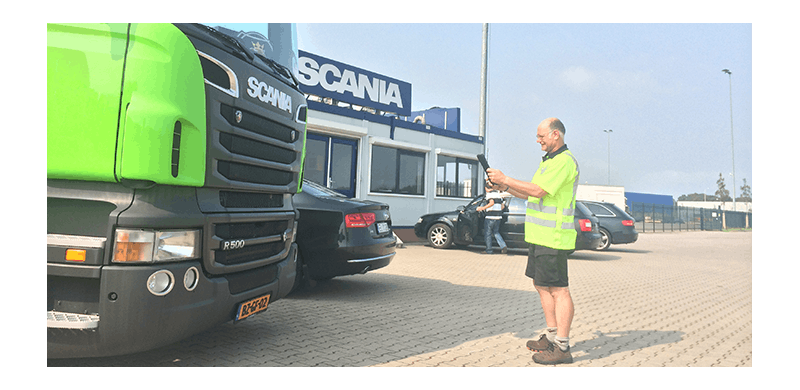 Scania's mobile forms
The Swedish company Scania, a manufacturer of trucks, among other things, is represented in more than 100 countries. The employees in Wijchen, the Netherlands, work with MoreApp on a daily basis for the inspection and intake of trucks.
"Ex-lease cars and trade in trucks are sold here," tells Bram Stakenburg, Manager Used Trucks & Rental Benelux. "Buyers can choose out of 350 used trucks, together with our Belgian colleagues, we sell around 1,500 trucks each year to transport companies all over the world."
No investment needed
Bram talks about the process before MoreApp: "The process included too many actions. My colleagues not only walked around with a paper form to inspect the trucks but also with a camera. In bad weather, raindrops made the forms unreadable. Next to that, a big investment is needed to build your own app. With MoreApp this investment is not necessary. We can now create all forms we want and only pay for the use."
Professional
"Working with digital forms saves us money, because there are 4 to 8 weeks between the time of the inspection and the actual trade, in these weeks the truck can get damaged. If the truck hasn't been sold yet, we have to pay for it, but now the buyer and the vendor get an email with the inspection report. This way we work professionally and don't have to pay for damages we did not cause."
Read how to use mobile forms on your TomTom device.