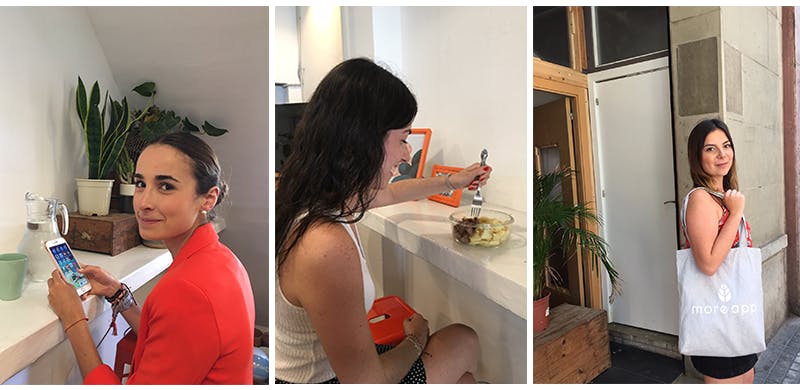 Our Best Tips to Reduce the Use of Plastic
Did you know this month is #PlasticFreeJuly? This movement brought us to the idea to interview the whole MoreApp team to discover their best tips to reduce the use of plastic. Curious? Keep reading!
MoreApp is a tool to build and fill in digital forms. MoreApp also cares about the environment, you can even see it in our logo. That's why we introduce our best tips to reduce plastic consumption. But first, you might wonder what is the #PlasticFreeJuly movement? It is a global movement that raises awareness amongst people to be part of the solution to reduce plastic pollution. Do you want to join the movement and discover our team's tips? Keep reading!
What's your Best Tip to Reduce the Use of Plastic?
We asked the colleagues from all of our international offices about their best tip. Let's discover their answers. 
Rotterdam, speaker is ON:
Mindy: "Don't use plastic bags when buying vegetables, put them directly in your basket or bring your own bag."
Thom: "Cardboard straws are revolutionary!" 
Denise: "Keep the leftovers in the fridge in containers, instead of using plastic foil."
Dirk-Jan: "Skip eating fish, because 46% of plastic in the ocean comes from fishing nets. Just don't buy anything wrapped in plastic, more and more stores in The Netherlands offer zero waste shopping." 
Joël: "Use toothpaste, shampoo and cleaning supplies that do not contain plastic. Also did you know that chewing gum contains plastic?" 
Inaas: "Bring your own reusable coffee cup if you get a coffee."
Maaike: "Buy vegetables directly at the farmers market, so they have no plastic wrapping. And if you use plastic, try to recycle it."
Vladimir: "If you want to buy any product in the supermarket, always go for the option that is not wrapped in plastic, but in glass for example." 
Berlin and Barcelona, please, tell our readers your best tips:
Julian: "Go to zero waste supermarkets where you can fill up jars. In Berlin we love sustainable shopping." 
Sabrina: "I avoid buying bottled water and try to have a refillable bottle with me at all times."
Arnau: "I use a water filter at home instead of buying plastic bottles. For food shopping I also use an organic bag."
Adèle: "I prepare my lunch in a glass container instead of a plastic one. I also use my organic bag to go shopping!"
Clara:  "I use a bottle made from glass and I try not to buy products with plastic packaging."
Vitor: "I always carry a glass bottle with me and I don't use plastic cups." 
What About You? 
Now that you discovered our tips to reduce the plastic consumption, we would like to know yours! You can share your best tips with us on our social media accounts:  Twitter or Instagram !
Adèle Retaillaud and Denise Ermes