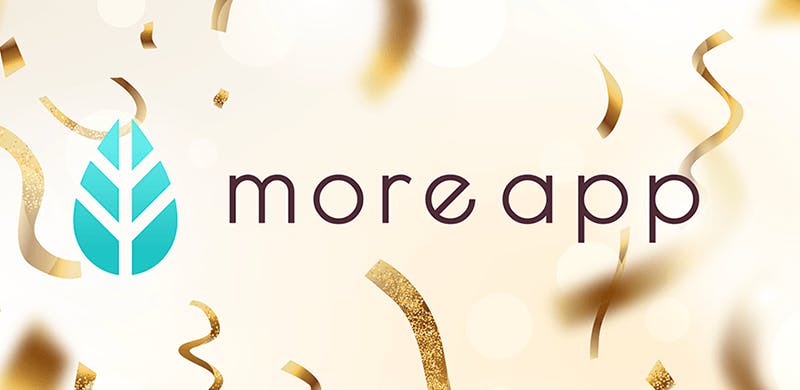 New MoreApp Logo
Our designer worked on a new branding style! The new style represents our vision. What does this new logo stand for?
App Icon
Mindy Hulsbeek : "It is my task to develop a suitable design for MoreApp. The vision of MoreApp is as follows: We help companies with collecting data in a digital and efficient manner and with that contribute to a more sustainable world. I started with a brainstorm session about this vision. Eventually, I came up with certain shapes, colours and mindset. Important aspects that display the new branding style and logo are mainly simplicity, clarity and sustainability/nature. The final design of the icon is a beautiful combination of these aspects. The logo is both a leaf, a drop and a tree and/or a grain of a leaf. The simplicity of the logo stands for the user-friendliness of the product. The curves stands for the gentleness and the company culture. Finally, the branches stand for the growth of the company, the possibilities of the product, an open-mind and thinking along with the customer. You can go any way with MoreApp."
Colours and Font
The choice of the color eventually stayed with blue, but with a twist. Mindy: "Blue displays reliability. A good starting point to go further with the new branding style. The green shade stands for sustainability, growth and nature. The new font fits the app icon; straight lines in combination with curves. It displays an accessible and at the same time confident appearance. The space between the letters gives calmness and reflects the time that the team takes for its users. The turned 'e' stands for the unique and the fun team!"
The Result
Mindy says that she, with this task, can grab the opportunity to work on the complete branding style and to create something really new. "It is a lovely feeling to design a new style that makes the whole team happy. The result is really nice and it makes MoreApp ready for even more growth and to distinguish itself from other providers." Mindy is very curious what you think of the new logo. We of course hope that you are just as happy with it as we are. Let us know!