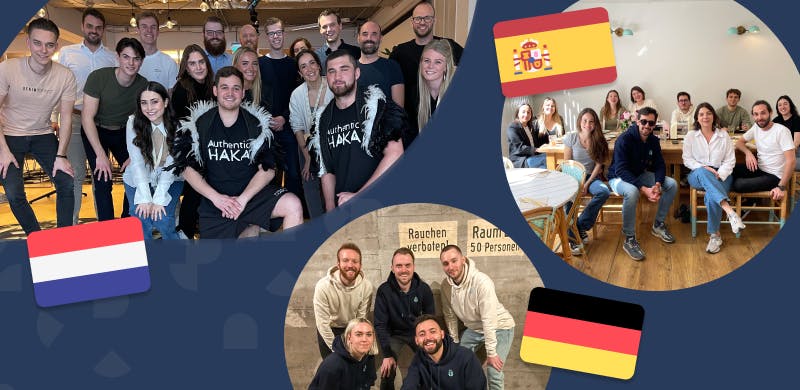 MoreApp Team Celebrates Achievements at all Locations
It's time to celebrate our Team's achievements! When it comes to building a strong bond, Team events are important. This time we celebrated our successes with our local offices. Barcelona, Berlin and Rotterdam all had some original and awesome activities planned. Curious to find out what they've been up to?
At MoreApp we put people & planet over profit. Happy employees mean the world to us. That's why we celebrate our big and small wins regularly together. We truly play as a team. With our events, we focus on improving communication, collaboration and positive new energy to tackle future challenges.
🇳🇱 Haka Warriors and Master Chefs in Rotterdam
The Rotterdam office started with a Haka workshop to learn the basics of the traditional New Zealand dance. You can imagine they were pretty hungry after this energising workshop! Luckily, they could show off their skills in the kitchen for some delicious meals. Three teams had to prepare their own culinary works of art in a cooking competition. The winning team received a trophy and can call themselves the best MoreApp chefs in town.
"It was amazing to experience such a unique workshop with my team! Both the Haka workshop and the cook-off made us bond more as a group."
Margaret
MoreApp Graphic Designer
🇩🇪 Exploring Berlin's History and Culture
The Berlin team had an unforgettable adventure exploring their city, which included a 90-minute underground tour. During the tour, they learned about the life of Berlin's citizens during World War II and the city's subway and railway. Later, they tried their hand at axe throwing with a coach who showed them the ropes. They had two tournaments, with one team member winning both. Can you guess who it was?
"It was nice to do something as a team away from work and to get to know each other on a more personal level."
Philipp
MoreApp Sales Consultant
🇪🇸 Barcelona Team's Epic Escape Room Experience
The Barcelona team had a thrilling and challenging experience trying to get out of an escape room. They worked together to solve puzzles and riddles to escape within the given time limit. It was a great opportunity for the team to work together in a fun and exciting way outside the usual office setting. After successfully completing the challenge, they celebrated their teamwork.
"Team building events are a great way to bond with your colleagues. We got to team up outside our regular environment, facing new challenges with the colleagues you don't work with on a daily base. This creates a great team spirit. I love it!"
Alba Garcia
MoreApp Head of SEO & SEM
At MoreApp, we love our people and we enjoy working together. Playing as a team is the key to success. Is a dynamic and supportive working environment important to you and do you think you would be a great fit? We love to hear from you! Apply today and help us digitise the world.