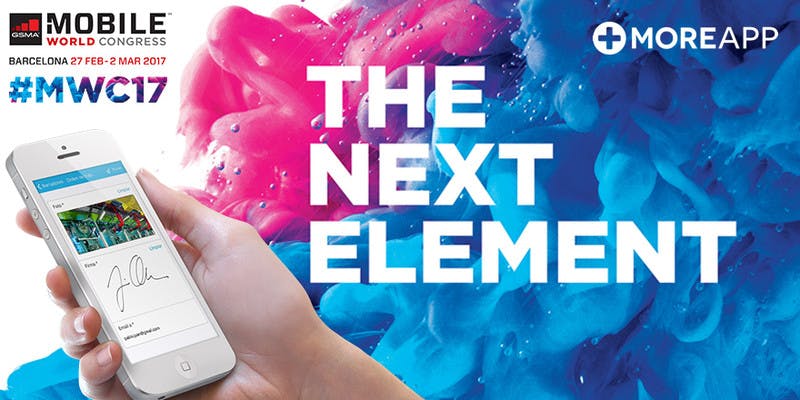 MoreApp at Mobile World Congress 2017!
This year MoreApp has the privilege to be attending one of the most important congresses in the world for mobile technology, the Mobile World Congress in Barcelona, Spain. After attending the Smart City Expo and Salon Mi Empresa this step forward puts MoreApp together with the top leading companies in this industry!
The Mobile World Congress, as you all may know, is one of the biggest congresses for mobile technology in the world, the top most important and influential companies in this industry will be present. Last year, almost 100.000 visitors, 2200 companies including media attended the event.
In this next edition, we will have a stand in the "Catalunya Government" section and we will be situated in "App planet hall 8.1" in front of the main entrance in space 8.1A63. MoreApp was very much liked and had a great success in the "Salon Mi Empresa" in 2015 along with the "Smart City Expo" in 2016, many companies from all around the world loved our app for mobile forms. At the Mobile World Congress, it won't be any different!
MoreApp Mobile Forms
Once again we will demonstrate the great potential of MoreApp mobile forms and the many benefits of going digital. Working with paper forms is not efficient for the company and the workers, statistics show that 1 in 20 paper forms gets lost and the cost of recovering badly filled in documents is very high. By filling in forms with a smartphone, tablet or computer for inspections of buildings, work orders, surveys, and others, you can experience how fun and efficient it is to work with mobile forms.
If you are going to attend the Mobile World Congress do not hesitate to visit our booth and in just 1 minute we will show you how you can optimize your company's working productivity!
Do you want to arrange a meeting with us? Send us an emailSend us an email!