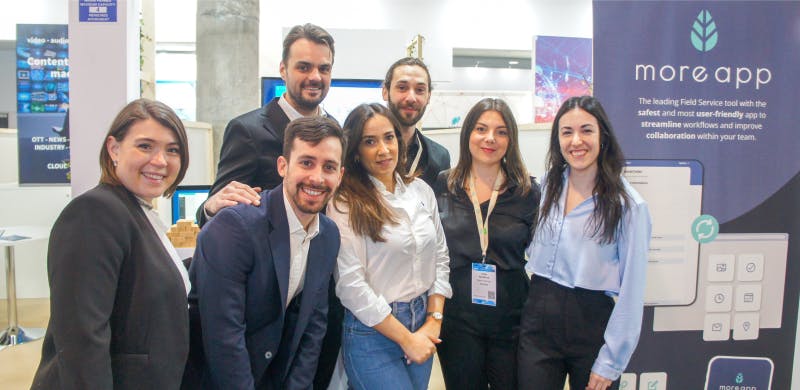 MoreApp Attends Mobile World Congress 2023 in Barcelona
MoreApp is excited to have attended the Mobile World Congress in 2023 in Barcelona. MWC was in Barcelona, home to one of our offices, and took place from the 27th of February until the 2nd of March 2023. Want to find out more about our Team's experience at MWC? Keep reading.
We're honoured to be back at the Mobile World Congress from the 27th of February until the 2nd of March 2023. Mobile World Congress is one of the largest technology events hosted in Barcelona. The theme for this year's congress was Velocity, meaning rapidity of motion. The world of digitisation is changing rapidly. At MoreApp we take pride in our work and MWC gave us the opportunity to showcase our product and share more about the latest changes.
How We Can Help You Move Forward
MoreApp makes your life easier. With our digital forms, you can save time, reduce costs and optimise your processes. If you are ready to take on the next step in digitisation with your company we are here for you. How we can help your company to move forward? With MoreApp's digital forms you:
Save time and money
Automate workflows
Improve the collaboration within your Team
Get professional online reports
Can work with sector-specific Templates
Our App is reliable, secure and, user-friendly and works both online and offline.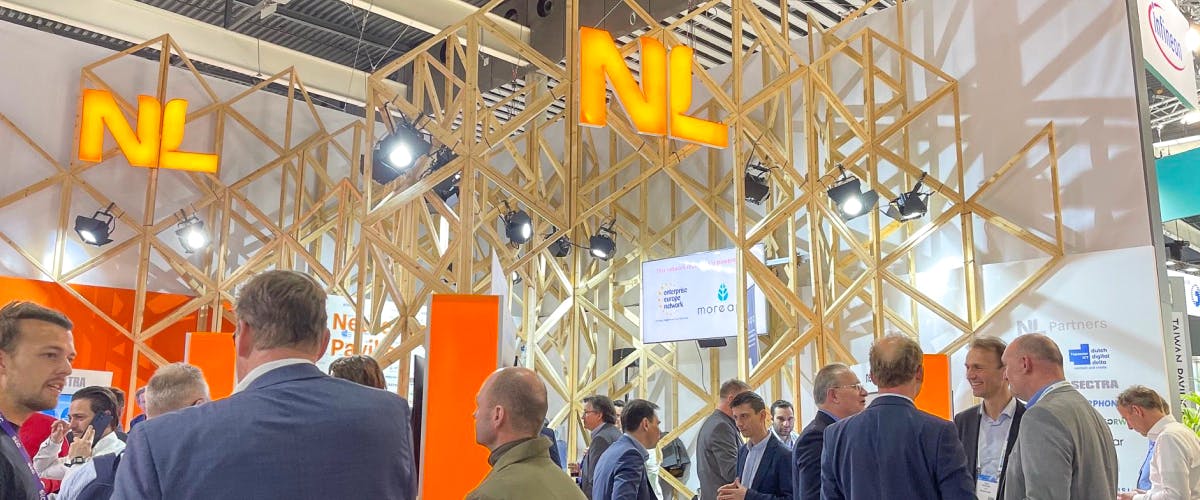 "We are thrilled to participate again in the MWC for several reasons. First of all, we believe in building strong relationships with existing and potential customers. It is a great opportunity for our Team to showcase our Product and help others to digitise. We are excited to meet you in person!"
Adèle
Regional Manager, MoreApp Barcelona
Official Sponsor of Green Wednesday
Being more sustainable is one of our core values. As an official sponsor of Green Wednesday we could bring sustainability, innovation and technology together. MoreApp's CEO Thom Bokelaar shared some inspiring words about our collaboration with Tree-Nation on Green Wednesday in the Dutch Pavilion. A big moment to celebrate our achievements and the difference we make:
"I am very proud to have been an official sponsor of Green Wednesday during the MWC at the Dutch Pavillion. We love to combine technical innovation with sustainability. Together with our partner Tree-Nation, we celebrated Green Wednesday and our successful collaboration by capturing more than 8000 tons of CO2 in only 2 years."
Thom Bokelaar
CEO MoreApp
Did you meet our Team at MWC 2023?
This year MoreApp had two different booths at MWC. What did our Team enjoy the most? MWC is an inspiring place where worldwide tech companies come together. It has been an excellent way to network, get inspired and learn more about the latest trends in digitisation and technology.
You could find our Spanish Team at the stand in the Congress Square area and our Dutch Team at 4YFN.
Did you speak to our colleagues and got excited about your next digital adventure? Sign up now and try MoreApp for free with our trial period.