Execute ISO inspections with MoreApp's Digital Forms
Safety is the main priority when it comes to working in the electrical engineering, installation or construction sector. These safety measurements are ensured with ISO standards. It is now possible to execute ISO inspections with MoreApp. Use our new ISO 9001 template or create your own form with the Form Builder. Comply with safety standards with our digital ISO forms.
What is ISO?
ISO (International Organisation for Standardisation) standards are guidelines that are globally agreed upon by experts in related fields. In order to guarantee the quality and safety of products, services and processes, standards are developed for market parties. In other words, an ISO standard determines which quality requirements and safety regulations a company should comply with.
Which sector is ISO meant for?
Increase your company's credibility and streamline management procedures with ISO. When complying with these standards, you can trust that processes are being carried out correctly and in the most efficient way. There are more than 22,600 standards in total. While some are industry-specific, the majority of the most used standards are generic and can be implemented in any company, regardless of the industry. The most used one is ISO 9001. This standard is applicable to a variety of industries, such as:
Construction
Engineering
Technology
Manufacturing
Healthcare
How to use MoreApp for ISO?
ISO inspections can be executed with a checklist. The checklist allows users to carry out an inspection in a structured manner. It is possible to use the collected data to obtain an ISO certificate.
"MoreApp helps us by providing an efficient, uniform way of inspecting. The output serves as proof of the work we do." - Taco Dekker, Siemens
ISO 9001 is by far one of the most popular ISO standards. It is part of the ISO 9000 family, which is used to establish the criteria for a quality management system. In a quality management system, the management processes are highly valued. It also focuses on the ongoing improvement of products and services that are being provided. Find below an example of an ISO 9001 template.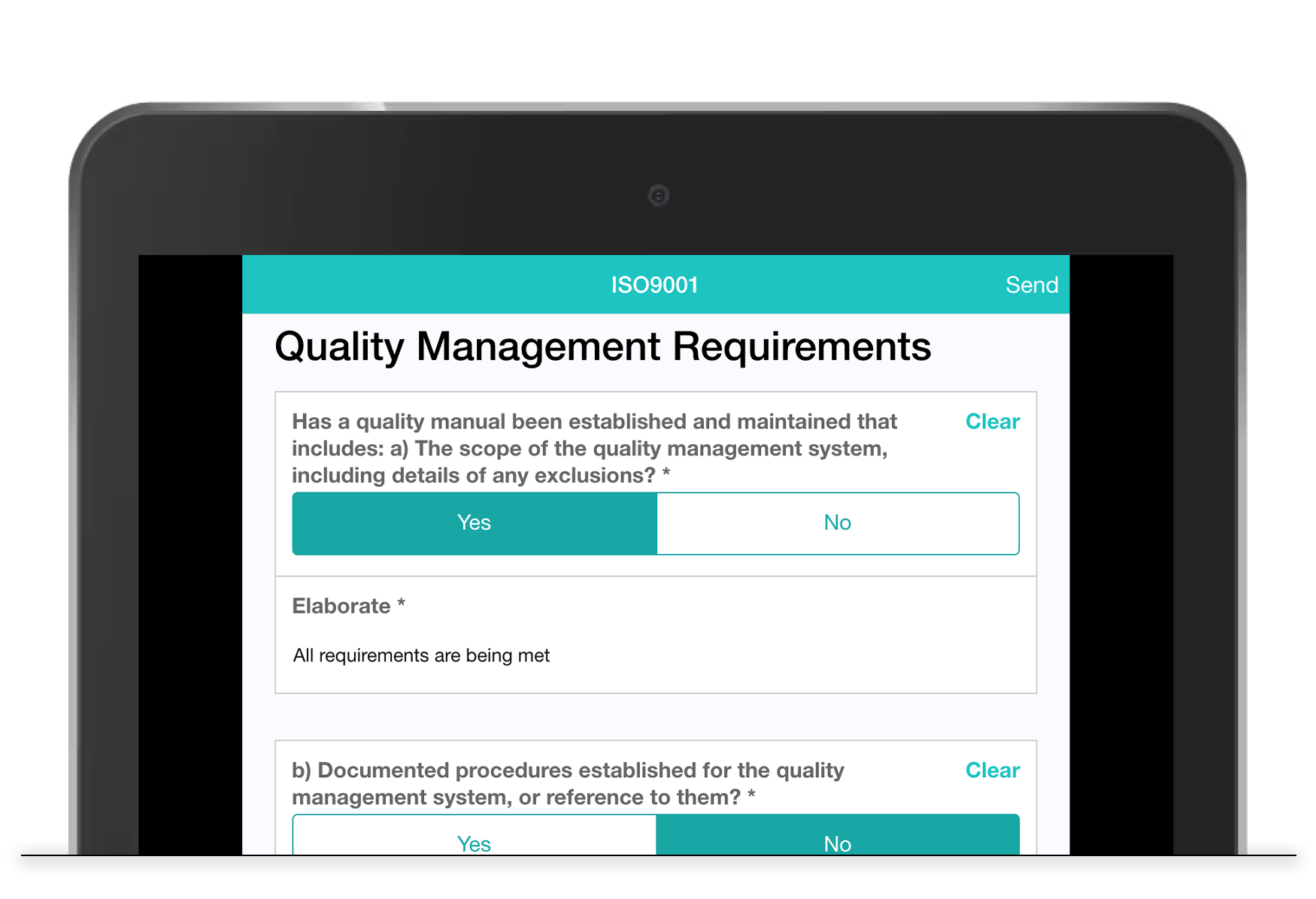 What are the advantages of MoreApp?
MoreApp is easy-to-use and reliable. Data is stored securely and complies with the international security standards of ISO 27001. There are other advantages:
Very user-friendly
Time-saving
Works both online and offline
Sustainable solution
Do you also want to carry out ISO inspections with digital forms? Try MoreApp now with our free 30-day trial!