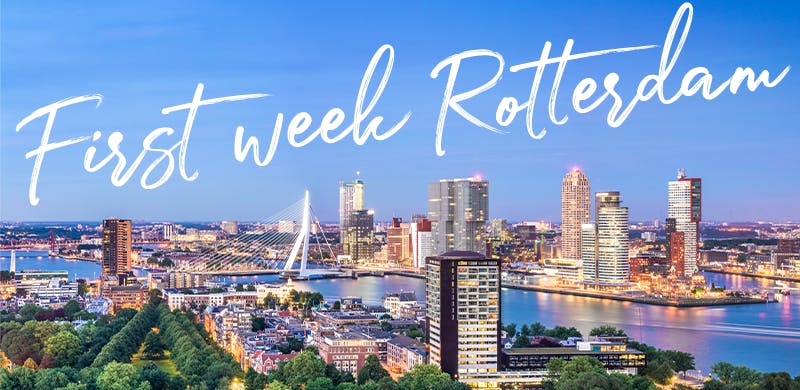 The 5 Things I Learnt During my First Week
Monday 10th January, the day I started internship! I woke up with plenty of butterflies in my tummy, however that quickly turned into pure excitement.
Starting a new job can be rather nerve-racking, am I right? My first day began by approaching the big, intimidating building right next to the Rotterdam central station, where the MoreApp office can be found.
Where the Magic Happens
Upon entering the office I received a warm welcome from all the team. Maaike, the Product Genius, then proceeded to show me around the building. The interiors of the building are incredibly impressive. Each floor contains many conference rooms, a game room, a meditation room, kitchens full of snacks and nap rooms. Also on Valentines day we were given cards and sweets from the CIC Rotterdam! It provides the perfect working environment to keep the mind fresh, stay productive and get creative.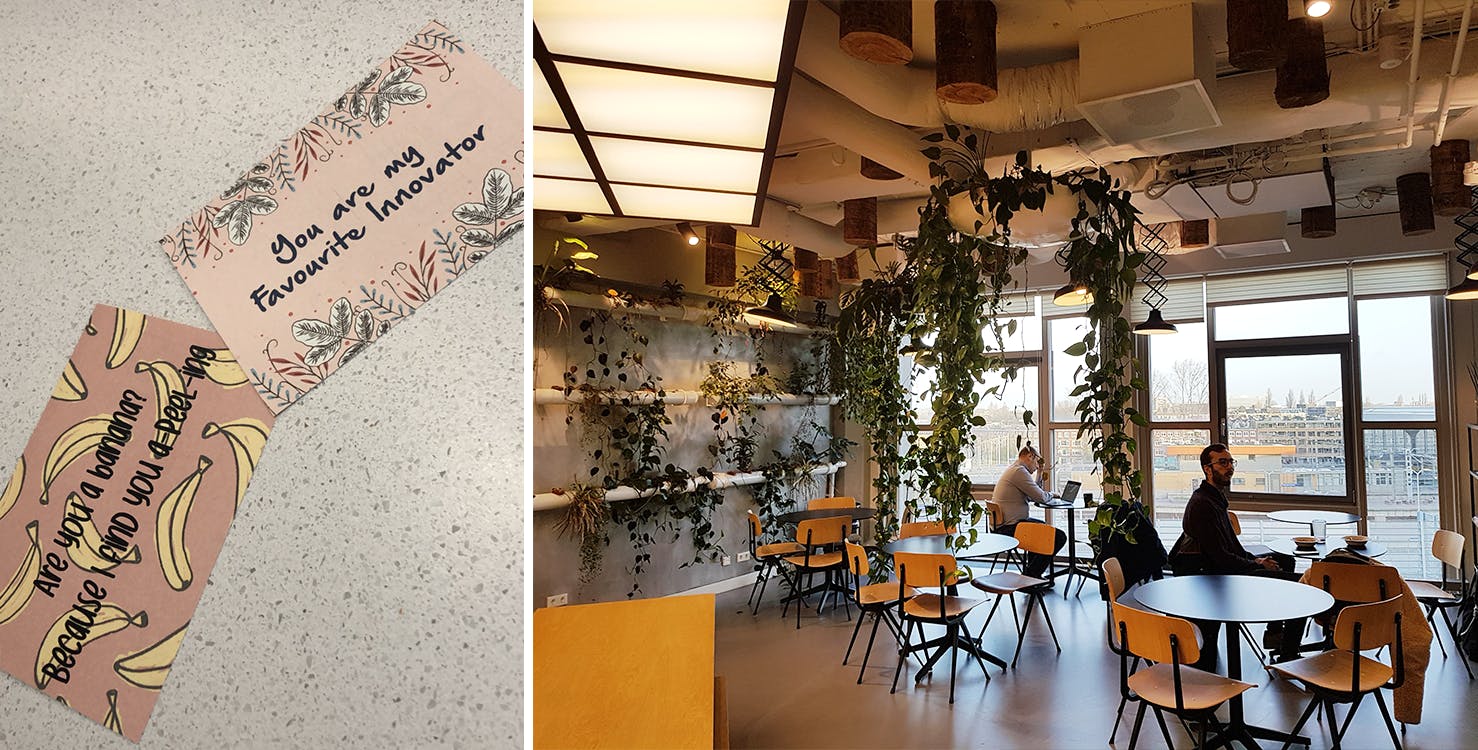 Valentines day cards from CIC Rotterdam, The kitchen
Learning the Ropes
Each morning I had a training session with either Maaike or Denise (project genius'). During these training sessions I learnt about the different tasks I will be performing while at MoreApp. These include managing the English and Dutch social media, creating digital forms and helping out with the MoreApp Help Center.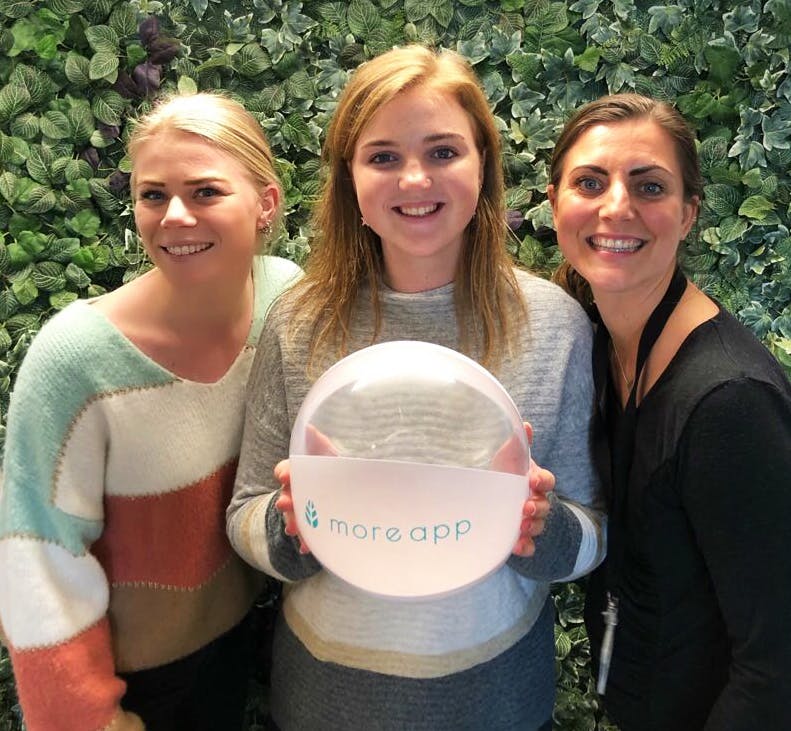 Maaike, Myself and Denise
So Lets Get Down to Business… What Have I Learnt During my First Week Working at MoreApp?
1. You can use MoreApp to create practically anything.
Whether you're looking for a forms app, an account manager app, an inspection app, a survey app, an audit app.. The list goes on, but I think I've made my point.
2. MoreApp is easy to use.
I have already created 5 different digital forms with MoreApp. You can use it on a desktop or on your phone, you don't need wifi, and with the help of a few tutorials, which can be found in the MoreApp Help Center, it is possible to create infinite useful forms.
3. Eco - friendly!
The more companies that use MoreApp, the less paper is used and the better it is for the environment.
4. There are always positive vibes in the office.
MoreApp understands the importance of making sure the team is in the right mind set for working. Every morning there is a Slack call between the 3 offices where each of us will mention our achievements from the day before and our goals for that day. Apart from this we have also had a table tennis contest and a meditation session, both of which I have really enjoyed.
5. What have I enjoyed?
At the Rotterdam office we always have lunch together which lets us build a stronger bond. As previously mentioned we have occasional events where we can wind down and have some fun. I have really enjoyed the training sessions with Denise and Maaike. I must not forget to mention the amazing MoreApp merchandise they have given me which includes a t-shirt, jumper, bag, mug, pen and beach ball!
I feel I have absorbed so much information in just one week, I am really looking forward to finding out what the next six months have in store for me!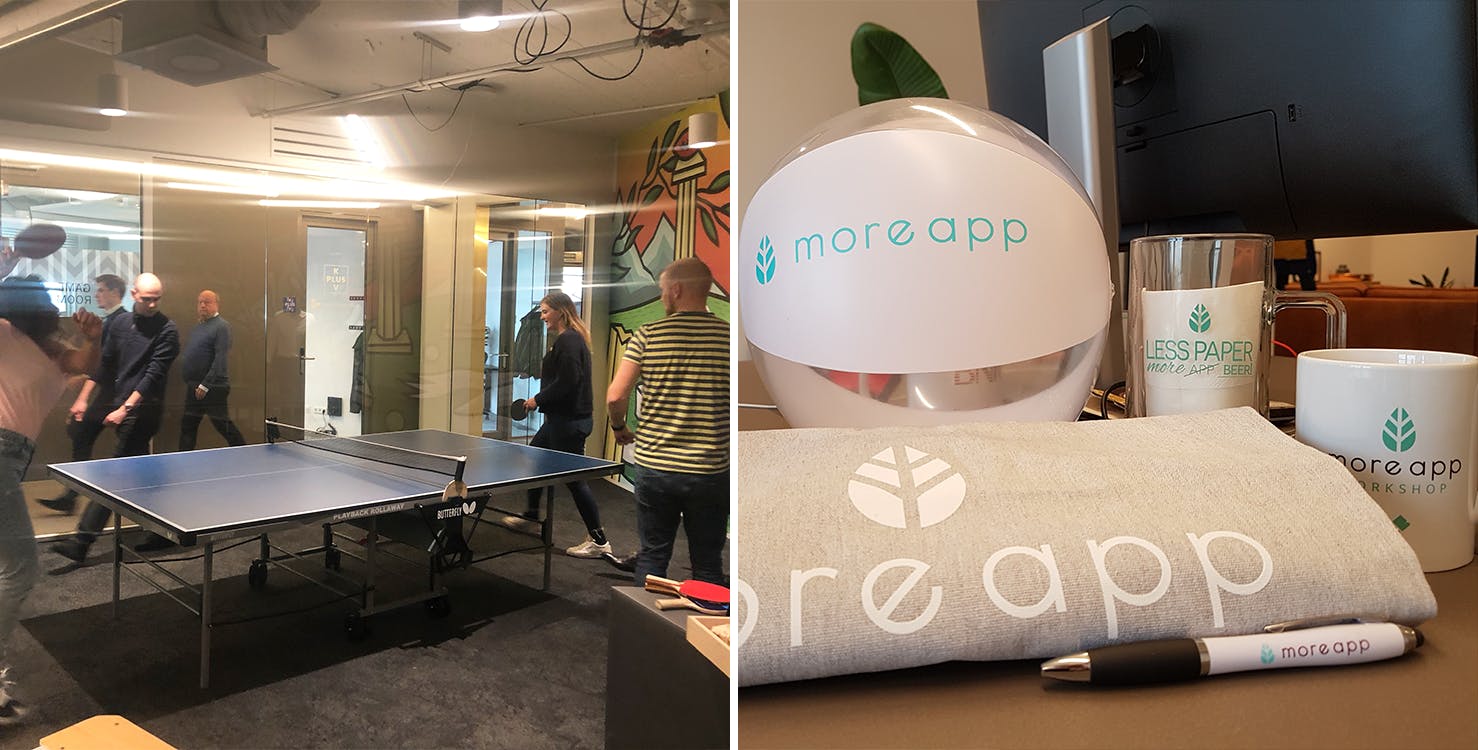 Table tennis match, MoreApp goodies
Are you interested in keeping up to date with Sophie's internship at MoreApp? Follow us on Instagram!