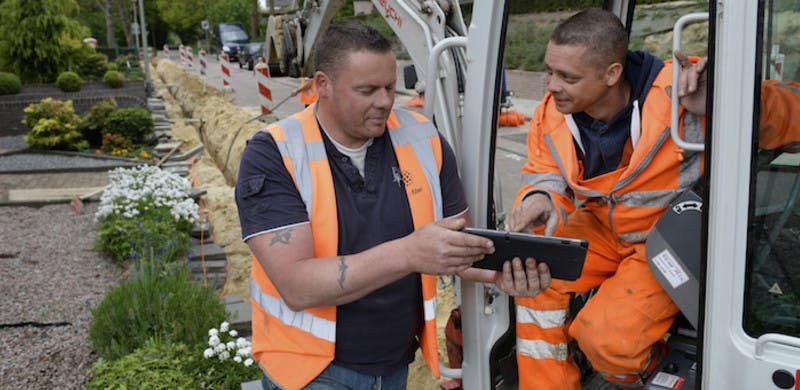 Digital Klic-notifications
Geodan is a company which ensures that network operators in the Netherlands comply with the Excavation Regulation. This law states that you are required to report any excavation activities. Geodan has integrated MoreApp with their WION system to digitally capture additional agreements.
A large number of network operators connect to the Geodan systems for their daily processes. Doekele Rienks, Product Owner of WION: "Our system is active 24/7 and we process a total of 550,000 KLIC reports per year." A KLIC (Dutch Cable and Pipeline Information Centre) notification is sent to the land registry office (Kadaster) when a company wants to mechanically dig or drill into the ground.
Why digitize within the excavator sector?
According to Doekele you increase the chances of mistakes with paperwork. "If we can digitize and automate we do it. Obviously this is only possible with the necessary monitoring tools and extensive test processes."
Why MoreApp?
In the field, agreements are made about the excavation process. Doekele: "We capture these agreements with MoreApp. The WION system creates a MoreApp form." Until recently this was a paper form signed by the concerned parties. It is a legal document which is consulted when excavation damage occurs in excavation work. For the digitization of this process Geodan started looking for a partner in the Netherlands. Doekele: "Geodan and MoreApp have the same thoughts about technology and project approach."
Prepare instructions
Geodan receives a message from the Kadaster. The WION system of Geodan sends a message back to the Kadaster within minutes. The integration with MoreApp ensures that an instruction is directly sent to the people in the field. Doekele: "Through the API, both systems automatically communicate. In this way the system enters a large part of the necessary information in the form. For the people in the field, we make it as easy as possible to fill in the form." Geodan customers save 10 minutes per KLIK notification. But more importantly Geodan likes the fact that the archive is now fully digital.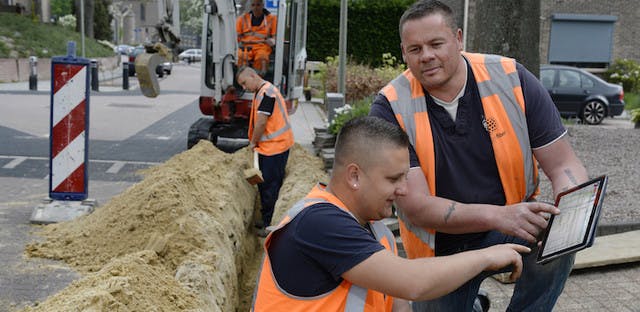 About Geodan
Geodan is a geo-IT consulting firm specializing in spatial information. Information exchange on projects such as underground cables and pipelines is important. The pipes, may for example, contain hazardous substances. It is therefore, mandatory in the Netherlands to make a report at the Kadaster if you go dig somewhere. The Kadaster examines which operators may have lines at that location. Geodan helps 470 operators with its WION system. The company also serves other industries with a wide range of products. For more information on Geodan go to: www.geodan.com.
Photos by Bart Homburg