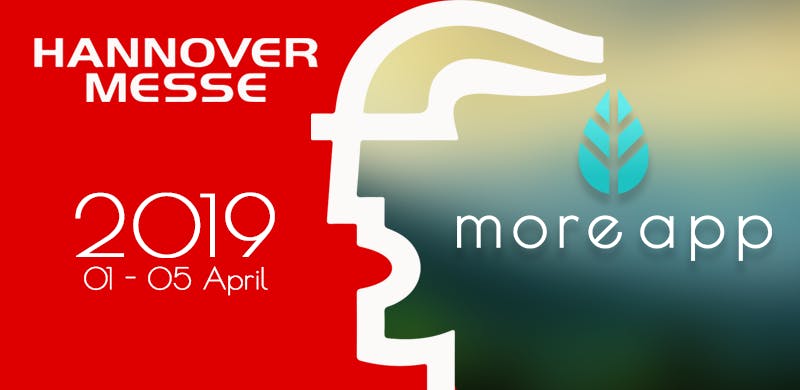 Digital Forms App on Hannover Messe 2019
MoreApp is part of the Dutch delegation at the Hannover Messe, recognisable by the orange color. Why will we attend this huge fair in Germany? 
In 2018 we presented MoreApp on the Dutch startup booth at the Hannover Messe. It was the first time that we attended this event. Just to give an example, Expedia dropped by our booth for a demo. They are now a happy MoreApp user. Expedia created webforms in multiple languages to sign up new partners. 
MoreApp is a generic tool to capture data on location in an easy and secure way. It helps businesses to work in an eco-friendly way, resulting in in less administration costs. With our Form Builder you can create mobile data capturing tools (digital forms). It's easy, intuitive, and powerful. The app for Android, iOS and web is used to fill in the forms anywhere you need them.
Where can you find MoreApp on the Hannover Messe?
This year we again attend the Hannover Messe joining The Dutch Smart Industry House in Hall 8. We stand out as the only startup on this orange pavilion!
Date: April 1 - 5
Hall: 8 
Stand: D34 
FME, the Dutch employers' organisation in the technology industry, and the Dutch government organise this mission to Germany. We really appreciate the organisation of this mission by the Dutch government, since our attendance at previous trade missions helped us growing in doing business internationally. 
Why is MoreApp going to Germany?
In 2018 we've opened an office in Germany, Berlin to be specific. From this office we serve our German speaking users like Schindler (leading player in manufacturing and technology), Flixbus (the well known long distance bus company) and Strabag (one of the biggest construction companies), as well as a growing list of many other users. The Hannover Messe 2019 is a great opportunity to meet our future new users, from small to big companies.
How can you make an appointment? 
Set up a meeting with Thom Bokelaar, Julian Liebig or Denise Ermes? Visit the website of The Dutch Smart Industry House or contact us directly.

Get your free tickets for the fair via the Hannover Messe ticket registration. Do you want to work smart and eco-friendly? Visit our booth! 
Denise Ermes - Product Genius