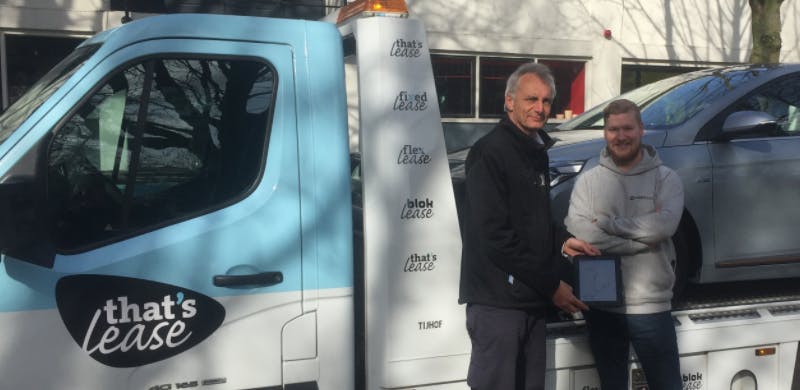 Delivery Form Lease Car
That's Lease delivered the completely electrical Hyundai IONIQ to MoreApp's CTO Dirk-Jan Hoek with a digital delivery form.
The delivery from, created with MoreApp, works great according to Dirk-Jan.
That's Lease fills in most parts of the from at the office so that when an employee delivers the car, he will receive a work instruction in the MoreApp App. The employee opens the instruction, fills in the necessary data, and asks Dirk-Jan to digitally sign the form, before sending it. Dirk-Jan receives a conformation as a PDF by mail just seconds after the That's Lease employee presses ''Send''.
Electric driving
Dirk-Jan likes to drive electric because he's worried about the pollution of regular cars. ''I always said that my next car would be fully electric. I am worried about climate change and in my opinion the transition to sustainable energy is going way too slow. Why I chose the Hyundai IONIQ? The Tesla Model S is too expensive and the Tesla Model 3 is still long in coming. The model I chose now offers the most value for money when it comes to electrical vehicles. The 4% addition and low fuel costs are lovely.''
Dirk-Jan drives 80 kilometers to and from the MoreApp HQ in Rotterdam everyday. He can drive to and from the HQ three times before his battery runs out. 
Worldwide reviews
Dirk-Jan uses MoreApp for his receipt declarations and to keep track of his strength training results. He is proud of the fact that many people, globally, are replacing paper forms with MoreApp's digital forms.
''We regularly receive reviews, in the app stores, from users that are on the other side of the world, without us being in contact with them. Then everything falls into place. They find our app or website, get convinced about our services and independently start creating forms. Eventually, they are so satisfied with our product that they take the effort to let us and others now how they feel about MoreApp. When I realise this, I am so proud of our product and team!''
The simplicity of MoreApp
You can easily build your forms in the Form Builder and fill them in using the app. According to Dirk-Jan, the simplicity of MoreApp is its main strength. Next to the fact that MoreApp is a generic product that serves almost endless purposes.
''There isn't any company that wouldn't be able to use MoreApp in one way or another.''
Lastly, Dirk-Jan expresses his satisfaction about the modular design. Being able to use and create your own widgets and hooks, enables almost every thinkable integration.