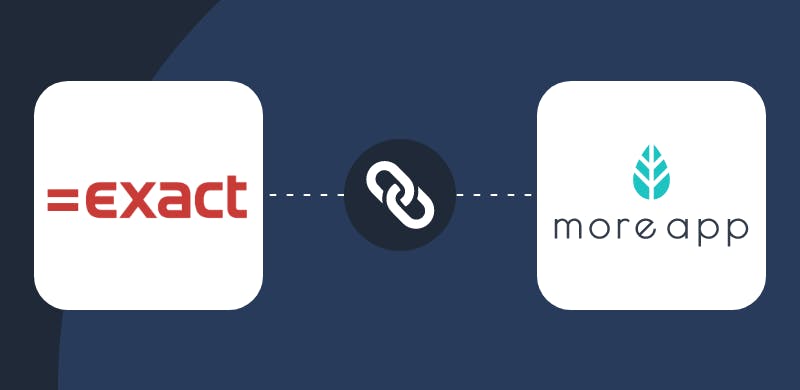 Connect Your MoreApp Data With Exact Online
Do you want to get rid of manually entering customer data? With MoreApp, the integration possibilities are endless. Easylink, one of our Technical Partners, makes it possible to integrate MoreApp with Exact Online. That means you can import data from Exact Online into your digital forms. Want to know more about the benefits of this integration?
Easylink specialises in connecting software with MoreApp (and many more) to optimise your processes. They have developed a great new integration with Exact Online. Exact Online is software suitable for bookkeeping, accountancy and more. To make your life easier by optimising processes, it is now possible to import all data from Exact Online into your digital MoreApp forms.
Why Import Data with Exact Online?
Importing data from Exact Online into MoreApp's digital forms benefits you as a user. It is no longer necessary to: 
Enter data manually
Load articles manually 
You can directly select customer data in your digital MoreApp form. The data is automatically imported from Exact Online. This way you avoid double data entry and unnecessary errors. The generated PDF report can be processed immediately by the back office. It is also possible to automate quotations, purchase orders and sales orders. 
Easylink offers great options that match your needs. Would you like to know more about optimising your processes? Easylink offers Basic, Plus & Customised solutions. Check them out on their website.
Benefits of Integrations with MoreApp
Integrations are the solution to digitise and optimise processes within your company. By integrating MoreApp with other tools, you optimise your work processes. Discover more benefits of integrations with MoreApp in this blog post.

How Can I Integrate Exact Online with MoreApp?
Our Technical Partner Easylink offers different solutions to integrate Exact Online with MoreApp. Choose the best solution for your business. All these solutions include the following basic features:
Relations
Contacts
Addresses 
Articles
Article groups
Want to connect your data from Exact Online with MoreApp? Discuss the possibilities with Easylink or contact us via chat or send an email to support@moreapp.com.