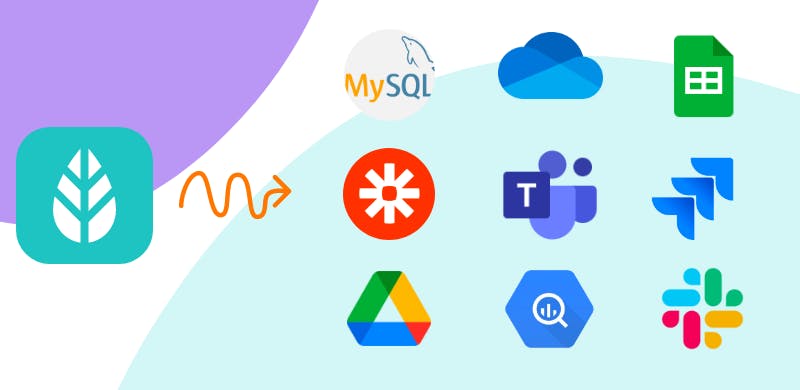 Automate Workflows with our Integrations
Did you know that you can integrate MoreApp with your other systems by using our API, Webhooks or Zapier? Connect our Platform with other tools to create automated workflows. Optimise your processes without having to code.
Optimise Processes with Automated Workflows
Get the most out of your digital forms and automate your workflows by integrating MoreApp with other tools that you use. Automation will give you more time to focus on other important aspects of your business.
Integrations make it possible to digitise and optimise your work processes within your company. You can use our free API, Webhooks and Zapier to integrate MoreApp. It's possible to create workflows and export your data to different databases or tools such as Word and Google Sheets. What are the advantages of integrating your software with MoreApp?
Save time and money on automated tasks
Access your data anywhere and anytime
Send notifications about past events
Convert data to your dashboard like MongoDB
Automatically save your data to your cloud (ex: OneDrive) or Server (ex: FTPS)
MoreApp has made integrations like the Instruction integration to enable customers to create awesome workflows. We also work with partners who play a big part in creating fantastic integrations to implement our software. Our technical partners can help your company build the integrations and workflows you need.
"You can retrieve all data via the Cloud. MoreApp is an open system, the API functionality is very important."
Kees van Iwaarden,
Easylink
Connect MoreApp with Zapier, Webhooks or API
Zapier allows you to automate actions between your tools. Webhooks allow you to send notifications between your tools. The most common workflows are:
You can also send information from MoreApp to your database. Learn how to connect MoreApp to data warehouses such as:
Integrations make the number of possibilities endless. Do you want to connect MoreApp with your other tools? Get started with our free trial period.