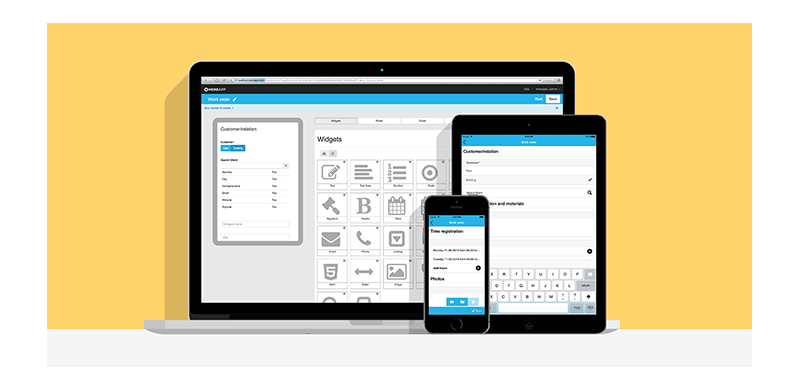 Startup MoreApp – Online And Offline Mobile Forms
SuperbCrew, a blog about startups wrote an article about MoreApp: In our daily web activities, we see forms being used everywhere. MoreApp is looking to help you with creating, editing and maintaining of mobile forms. No longer do you need to bother with simple paper forms that take a long time to create, process or even keep a track of. MoreApp offers a large, extensive directory of widgets that are available to build your forms with.
You can see in the above demo video just how easy it is to get started with building efficient forms. MoreApp is suitable for any company or organization that captures data on location. MoreApp replaces all paper instruction and registration forms. It's simple: choose a sample form or create your own form using the online platform of MoreApp. Your employees or clients can download the app on a tablet or smartphone and fill out the forms on location.
MoreApp guarantee safe and secure submissions, while analyzing each and every form submission that goes through, making sure that only verified and authentic submissions are accepted. It's still an early stage startup, but it has caught my attention for being extremely well organized and offers a multitude of widgets that allow for comprehensive and detailed forms to be built.
At the moment, signing up is as easy as entering your email address on the homepage of the MoreApp website. You'll then receive an email, through which you'll be able to signup and begin building your own forms. Free (trial) accounts receive complimentary 100 credits at no cost, while the actual prices can be seen on the bottom of the MoreApp site.
I played around with the trial account for a little while, and while it took me around five minutes to figure out how everything works – I think that MoreApp has got potential to help out a lot of businesses, especially in fields such as marketing, information desks, travel agencies and a lot more.
Give them a try and let us know what you thought, different experiences will always help to better understand the advantages and disadvantages of a product.