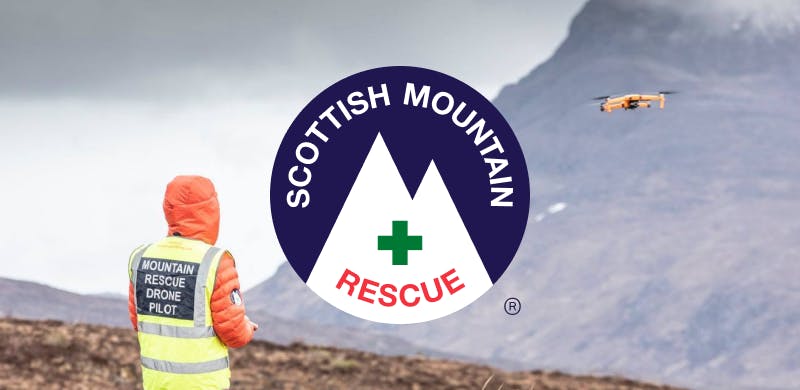 SARAA Scotland and MoreApp to the Rescue
We couldn't be more proud of the way MoreApp contributes to the rescue missions of Scotland's Search and Rescue Aerial Association (SARAA Scotland). Testing weather conditions, high mountains and other rough conditions are the challenges the non-profit organisation faces. They use drones to search areas that are difficult to reach to help out people in need. As a form of aviation, these activities require checklists, risk assessments and other forms. All are digitised with MoreApp and remove the need for paper documents in the wilds of Scotland.
Digital Risk Assessments and Flight Notifications
SARAA Scotland and its volunteers are committed to protecting the safety of people out in the Scottish hills and mountains. Previously, only humans and search dogs used to locate people that got lost during a hike. Four years ago drones were introduced and added to the rescuer's toolkit. This is also the moment Tom Nash, Chair Person & Team Lead at SARAA Scotland, started working with MoreApp.
"Drones can comb areas easily and search for casualties. Drones can also reduce risks for our own volunteer people. We can spot if an area is too dangerous and if we need a safer route," explains Tom. The technology of drones becomes more advanced. Tom describes they first worked with a drone that could only fly in daylight. Our drones are now equipped with a thermal camera, floodlight and speaker to improve communication. Tom: "Drones are a great addition to our rescue teams."
Ultimately, drones are part of aviation which is hugely regulated. That's why SARAA Scotland uses a digital risk assessment and has digitised all flight checklists, created with MoreApp. Pilots fill in the digital risk assessment before flying the drones, declaring all safety measurements are met. Police Scotland and SARAA Scotland always receive a copy, which serves as a flight notification.
"MoreApp's interface is really intuitive, allowing me to have forms ready or updated when needed. Because the app is available offline, it allows even our colleagues high up in the mountains with no data connectivity to fill in the forms."
Tom Nash
Chair Person SARAA Scotland
The Offline and Time-Saving Solution
The drones they use have to be registered with the Civil Aviation Authority. As part of their flying procedures, SARAA Scotland uses the digital risk assessment form. This assessment contains all the necessary information provided by the pilot. It's an excellent way to ensure process quality and safety and it also serves as proof of documentation in case of an incident. Besides these assessments, Tom also uses several checklists geared towards reducing human error and ensuring the mission is flown safely.
Other benefits of MoreApp SARAA Scotland is very happy with:
The App even works offline in the most remote areas
Mandatory fields ensure registrations are always complete
Complicated risk assessments are kept short and simple
"The risk assessment is an essential form within our organisation. Using MoreApp, it is possible to make fields mandatory which ensures that no important question is overlooked."
Tom Nash
Chair Person SARAA Scotland
Why is MoreApp Your Best Choice in the Field?
With MoreApp the possibilities are endless. Not only can MoreApp be used offline, but there are also more benefits such as:
Unlimited users
Importing and exporting your data
5000+ Integrations possible with other tools
Send instructions to users in the field
Do you also want to save time and work more efficiently like SARAA Scotland? Try MoreApp for free during our trial period and find out which plan fits best!