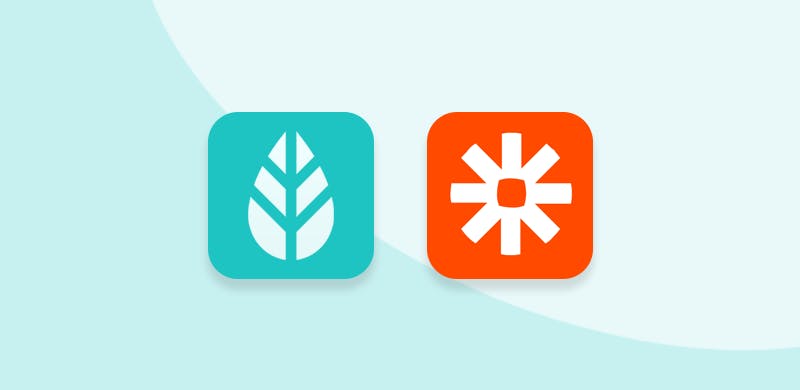 Get Started with our Zapier Templates
We are happy to announce we now have created new templates in Zapier. You can easily use these predefined templates, also referred to as Zaps, to optimise your workflows with MoreApp. Discover everything you need to know about these Zapier templates.
Zapier is an online automation tool that helps you connect your apps and services. With this tool, you can create workflows that will make your work life a lot easier. Since last year it is possible to integrate MoreApp with Zapier. An automated workflow, called Zap, connects your apps and services together. We are now launching our new ready-to-use templates to help you get started with Zapier. Find out everything you need to know about the use and benefits.
What Is Zapier and Why Would You Use It?
Use Zapier for anything that can be done automatically. Zapier helps you to create critical workflows and actions based on conditions.
The Zapier dictionary
To get started with Zapier, you will need to know a few essentials from the Zapier dictionary.
Zaps: Zaps help you to connect your daily apps and services together.
Trigger: A trigger will set your Zap into motion.
Action: The action will be completed based on the trigger.
Our templates will help you to implement all these essentials mentioned above. The benefits of using MoreApp's templates are:
Automating your workflow;
Optimising your administration;
Saving time by eliminating daily tasks
Efficient, quick, and reliable!
Building workflows has never been easier. With one of our templates, you can create a work instruction in MoreApp. A work instruction is a digital form with pre-filled data for the user.
How would this work when using this template? Let's say a user receives a calendar invite with information about tomorrow's inspection. The event also includes information about the location onsite, as well as the customer's details. Now, because of the trigger, the user receives a work instruction in MoreApp with all necessary data. This also works the other way around. Easy!
It's for a good reason Zapier is one of the most popular integrations that MoreApp offers. Lots of companies, like Adobe and Spotify, are using Zapier to optimise their workflows. There is no need to code, it is very easy to use!
Find here how to connect MoreApp to other tools with Zapier!
Our new Zapier templates
We have created these Zapier templates for you to get started right away.
Integrate the following apps with Moreapp and Zapier: Google Sheets, Microsoft Excel, Microsoft Teams, Trello or MySQL and many more. Create endless possibilities with triggers and actions for your workflow and use these templates to optimise your structure and processes.
We highly recommend using our Excel Online template. By activating this template you can link a form of your choice to an Excel file. A new line will be automatically created after each submission. Efficient, isn't it?
Find an overview of all the available templates in our Help Center and read step-by-step how to use our Zapier templates. Zapier supports over a thousand integrations. Check the Zapier library, if it is possible to integrate your digital forms with many other tools.
Any other suggestions for a pre-designed template? Send your suggestion to support@moreapp.com.
Ready to improve your processes with our brand new Zapier templates? Try MoreApp for free with our trial period.