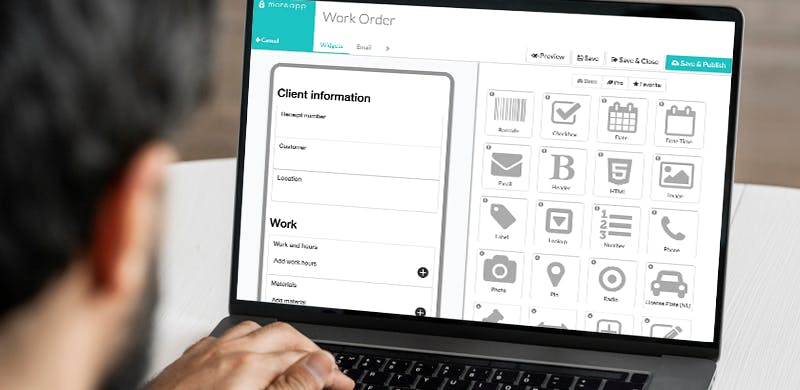 MoreApp, a No-Code Platform for your Forms
MoreApp offers customers a Platform to create digital forms without having to use HTML code. We are a no-code platform. This makes MoreApp an accessible Platform that is self-explanatory and user-friendly. How do we make this possible?
More companies are making their products easily accessible for customers without the required coding skills. No-code and low-code are commonly used technical terms for SaaS companies:
No-Code allows programmers and non-programmers to configure other tools without having to code
Low-Code allows programmers and non-programmers to configure other tools that require additional coding
MoreApp is A No-Code Platform
MoreApp lets you create digital forms and collect data. Based on the data you collect, you will receive a standard PDF, custom PDF, Word file or Excel file? There are many options to choose from. By default, we generate a PDF file that will be sent to your email. Do you want the email to be sent to a specific person? Dynamic fields in your form will make this happen.
Our Widgets make your life as a Form Builder a lot easier. Our Widgets are an important way to customise your form. Create your form from scratch and drag and drop the widgets you want to use.
Choose one of our most popular widgets:
Photo-widget
Checkbox-widget
Text-widget
Our Word integration offers customers the possibility to customise their PDFs. This can all be done without coding skills. Read everything you need to know about our Word integration here.
Improving Usability for your Users
Our aim is to improve the usability of our app for your users. A great solution to implement to your forms is the functionality to make your form more dynamic. With rules, you choose to show fields in your form based on earlier selections you made.
Data import is another way to make life easier for your users. You can easily import a data source via Google Sheet, Excel or a URL. The data will then be shown in your form.
Advantages of Our No-Code Platform
There are many advantages of using our no-code platform for your business:
It's user-friendly and self-explanatory
You have endless possibilities to create your own form
Time-saving
Access to the latest features and integrations
Configure your other tools with our integrations. Our integrations help you create workflows and make your work easier. Collecting data has never been easier.
Excited to get started? Build your own forms without having to code! Try MoreApp for free during our trial period and create your own fantastic forms.