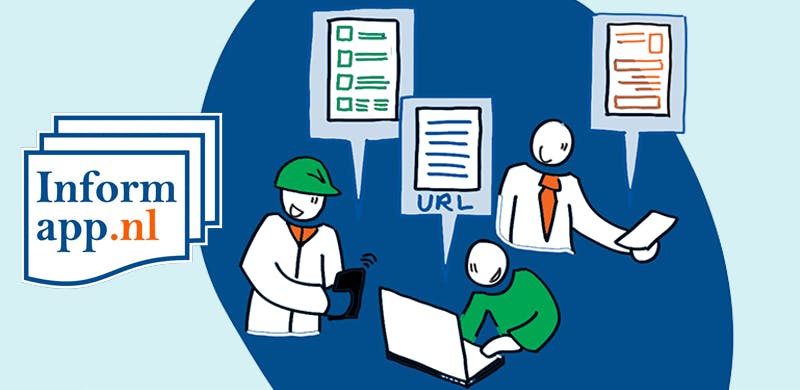 Integrate MoreApp with your Systems
Did you know that MoreApp works with partners that develop great integrations for other companies? Informapp is one of these partners. They have developed integrations for over five years that let you integrate MoreApp with other systems. What can Informapp mean for their customers?
Informapp provides integrations for industry-related and accounting software and MoreApp. They supply all-in-one solutions for all kinds of companies in construction and installation. Besides that, they develop custom-made applications that are linked to MoreApp. Hessel Voorbij, Commercial Director at Informapp, explains in this interview what services they provide for their customers. For example, they support users by building forms and they ensure data can be exchanged in all kinds of ways.
"We help the customer by building forms and integrations. We have experience, work efficiently and deliver a high-quality solution."
Hessel Voorbij
Informapp
Informapp's customers use various forms such as work order forms and order forms.
Applying More Logic and Intelligence
Five years ago Informapp started using MoreApp. Why? MoreApp has a fantastic Form Builder and a great system for generating reports mentions Hessel. "We are expanding this further with Informapp. In addition, Informapp developed its own Document Builder that makes it possible to program even more layout possibilities in processes and documents."
"We think MoreApp's Form Builder is very powerful. The Instruction integration is also a big plus, we use it via the API."
Hessel Voorbij
Informapp
A great use case is their customer Feenstra. Feenstra security works with an order app for their engineers. The buses of the mechanics are 'flexible' warehouses. All projects, activities and materials used are registered in the software program called Syntess. Orders are passed on to MoreApp via the (Inform) API. How does this work?
The experts receive an order. This is a 'push notification' with instructions in the app.
These orders can be adjusted by the technicians
After confirming the order, the order is processed by Syntess Atrium
Informapp links the systems
Informapp delivers an all-in-one solution that covers every aspect.
Applicable Features and Integrations For Everyone
Informapp continues to develop new tools that are easy to use for many customers. They are working on the following features among others:
PowerBI allows you to generate dashboards to make data more visual. All data from registrations, processes, instructions and users can be used for this.
Exact Online is a tool for bookkeeping among other things. With integrations, users can retrieve data from and send it to Excel Online.
Syntess Altrium has realised fantastic integrations. You can identify sales opportunities faster and automate administrative tasks entirely.
Templates for every extension
With Informapp's Script Template, the report can have any extension you want. This functionality is particularly useful for tools in the financial industry.
"With templates for every extension you ensure that the registration is processed or that instructions are pushed without any required manual action. This way, we automate many time-consuming processes."
Hessel Voorbij
Informapp
Informapp is one of our Technical Partners, who develop solutions for their own customers. Read more about our partner program here. Do you want to know what Informapp can mean for your company to integrate MoreApp with your systems? Get in touch with Informapp.