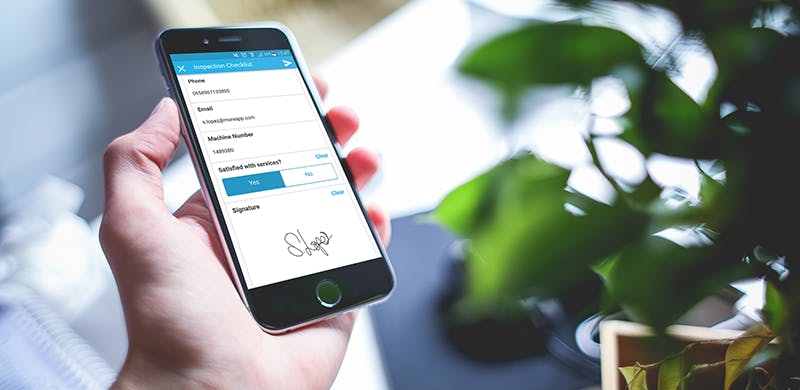 Your Inspection Checklists App with MoreApp!
Inspectors no matter the industry, have a lot of checklists to fill in. Whether you inspect houses, windmills or cars you walk around with an inspection checklist to get the job done!
Let's say you're a home inspector, and you inspect 10 houses a day. In each house you have to inspect the vents, pipelines and gas pipes; that is 3 different types of inspections which have different checklists. No need to say that, that is a lot of paperwork to be administering every day. Not only does it cost you more time organizing and administering the forms, but the amount of paper waste that is acquired from paper forms is outrageous!
What if you can have all your different inspection checklists automatically updated to your database? This is possible with an inspection app! MoreApp's inspection app is the best productivity app for inspectors. MoreApp's Form Builder allows you to create custom checklists and has all these checklists accessible to you from your smartphone or tablet.
Inspection App Benefits
Once you're finished with the inspection, you submit the inspection checklist directly to your employees and colleagues. With this workflow, you optimize productivity and cut working hours. You can also customize the inspection checklist app by MoreApp to match your company's housing style!
If you're still not convinced on why you should upgrade to an inspection checklist app, then here are more benefits for using MoreApp's inspection app:
Minimize errors
Export data to Excel or Google Sheets
Prefilled in fields
Offline app
Import data from Excel or Google Sheets to your forms
Take real-time images
Digital signatures
Barcode scanner
These benefits won't make you miss your ordinary paper inspection checklists! You can throw away your clipboard and digital cameras, those additional baggage are not needed with an inspection app. Keep up with the fast moving technology and start filling your inspection checklists on your digital devices!