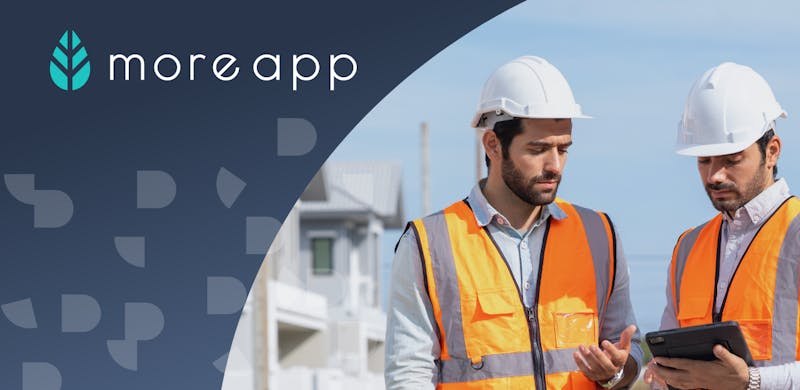 MoreApp is Dedicated to Empower Field Services
MoreApp is the perfect tool for professionals in the field services industry. We empower your employees by increasing their productivity, improving collaboration and optimising work processes. What else can we do to improve your business?
1. We Help You do Your Job even Better 💪
We are praised by our customers as the most user-friendly tool. Why? Because our Platform is no-code, which means you don't have to be a developer or even tech-savvy to build forms with MoreApp. It's self-explanatory and the usability of our app is an important part of the customer experience. If filling out forms is an essential part of your work, we are happy to make your professional life easier. Our product is optimised and dedicated to your needs in fieldwork. Even when you are offline, experience network issues or encounter bad lighting, our tool can always be used.
If you do need some assistance, our Support Team is here to help you. Our customers rate our support with a 4.8 out of 5.0 ⭐️, which makes us beam with pride! Our support is personal and accessible in seven languages.

2. We Prioritize Your Privacy and Security 👀
We guarantee your data is protected and available at all times, which we ensure with our ISO 27001 certification. We strive to deliver a high-quality tool that contributes to the best execution of your core business. Most of our customers are professionals in the construction and installation sector, who prioritize safety in their daily operations. As the leading tool for digital forms, we make it our priority to ensure your safety and privacy. Everything you fill out in MoreApp is your data and will always remain yours. We ensure your data is protected and available for you at all times.
3. We Optimize with Workflows and Integrations 🛠
Be in control of who's doing what, where and when. Workflows are the perfect way to improve the quality and consistency of your output. Integrate MoreApp with your other tools to optimise your processes and workflows. We enable you to build advanced workflows using Zapier, Webhooks, and our API. Discover more about the integrations we offer.
4. We Improve Employee Collaboration 👷‍♂️
Every employer is looking for innovative ways to make their employees' lives easier. While field workers mainly work by themselves, your work is always part of the bigger picture. Inspections for example are usually reviewed and approved by multiple people. These processes require a precise and efficient workflow that helps align all departments within a company. With MoreApp you are easily in control of these automated work processes, from start to finish.
"The leading Field Service tool with the safest and most user-friendly app to streamline workflows and improve collaboration within your team."
Looking for the perfect user-friendly tool to streamline your workflow? Try MoreApp during our free trial period.