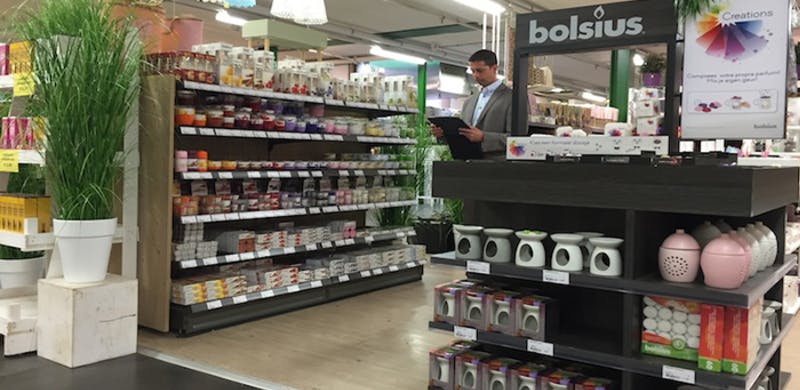 Digital Store Check
The sales representatives of Bolsius fills out all store checks digitally with MoreApp forms, they do it in order to collect data from the field. With digital forms the data is immediately ready to be analyzed at the office. Digital forms save Bolsius about 500 hours per year and the investment in MoreApp is earned back within two months.
Marcel Donkers, the Corporate IT Manager explains; "Bolsius is on its way of moving away from the fax machines with introducing the digital ordering methods such as B2B web shops and an order app (developed by Iconum). My vision is to fully support the core activities. We grow the business with the IT. I believe that the time spent on administrative tasks should be minimized and using this tool we started to think in that direction because our cutomers wanted a digital order flow."
Retail store checks
Erik van Balken, Sales Representative, "The product range of Bolsius is huge when you consider the number of sizes, colors, scents, accessories and displays. When I'm in the retail shop, I first fill out the order form with the app Iconum made, then I fill in the store check with MoreApp. I check what I see in the store and take pictures of it, I do this for 5 to 15 different customers at one day." Marcel says: "In this way we collect data from the field. It helps us to predict the needs of our customers more effectively."
Savings
Erik explains; ''1.5 years ago, when I arrived home after work, I had to retype everything. The store checks were in a central Excel file where only one person at a time could work on. I often had to wait before I could enter data." Now the data arrives directly into the Bolsius BI platform and it is analyzed at the office. After running the store check the sales representative fills the time registration with MoreApp.
Marcel adds that they have done several business cases, including one for MoreApp. The payback period for all their digital tools is six months, for MoreApp it was only two months. The sales representatives can now visit additional customers because they save on paper, color prints and retype-work. Bolsius saves 500 hours per year with five sales representatives entering data with MoreApp. Erik adds: "I am now a half hour more on the road each day because we work with apps. It's great that MoreApp also works offline. Now when I come home, I'm really finished working. The app gives us a carefree day."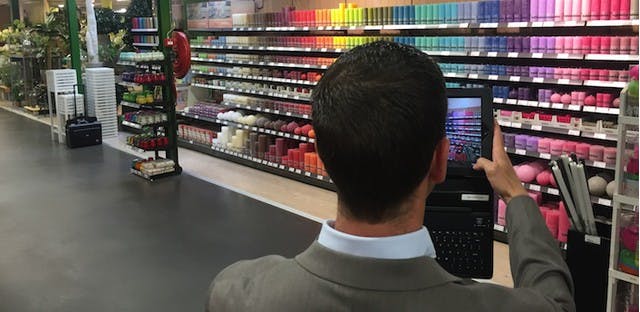 Digitization
Bolsius is 'one company' with one ERP system that they have been using for several years all over the world. Two years ago, Iconum built a shell around Oracle's JD Edwards consisting of web shops, an order app, and a scan app. They did not want to build a forms app, saying that there must be an existing tool for that. Together Bolsius and Iconum looked for a good app and found MoreApp! All information is automatically loaded into the BI platform for the analysis of data from the field. Now when everything is implemented, the company is entering the stage of further development."
Future
According to Marcel; "You can do a lot with MoreApp." He explains their plans. "We'll shortly start a pilot in Germany with the digital store checks, as we now do in the Netherlands and Belgium. We will also deploy an inspection form for the hospitality department. In the factory we have fireplaces where we check burning candles on more than 15 different items. These inspections are also perfect to do with MoreApp."
About Bolsius
The Bolsius family have been candle-makers since 1871. They started with the production of grave lights, quickly adapting the production automation and expanding their range to multiple types of candles. The grave lights and tea lights are produced in the Netherlands. The rest of the product range is produced in Poland, in a huge factory of 17,000 m2. The son of Anton Kristen, Vincent Kristen, is now the CEO. Bolsius exports to more than 60 countries and does not own any storage points anymore. They outsource to the logistics companies. In addition to its own product range, the total supplier also produces for private labels.