From Paper to Digital: Find the best Software to digitise your Forms
Is your business transitioning from traditional paper forms to the world of digital efficiency? The era of paper forms is fading fast, and embracing digital forms can empower your operations. In this blog, we'll walk you through a detailed comparison of various digital form platforms, helping you find the perfect match for your company's unique requirements.
In today's digital era, companies are looking for ways to streamline their operations. Due to their resource-draining nature and harmful environmental impact, replacing paper-based processes has become a top priority. Digital forms are now recognised as the go-to solution for efficient data collection.
Digital forms are user-friendly and ensure faster data collection. However, with many platforms available, it's not easy to choose the right one for your company. To make this decision easier, we will compare three platforms: Google Forms, Microsoft Forms, and MoreApp Digital Forms.
MoreApp Forms vs. Google Forms
MoreApp is defined as the leading field service management tool, helping companies from all sectors optimise their processes through digital forms. On the other hand, Google Forms is an online form-creation tool provided by Google as part of the Google Workspace suite.
Although there are significant differences between the platforms, MoreApp and Google Forms have one thing in common: unlimited users. However, Google Forms only offers limited customisation options (colour and logo) for building surveys. In contrast, MoreApp offers all sorts of specialised forms, such as work orders, inspections, audits, maintenance forms and more. With the Branding subscription, MoreApp allows you to customise your company's logo and colour and the automatically generated PDF.
Find a comparison of the possibilities of both tools below: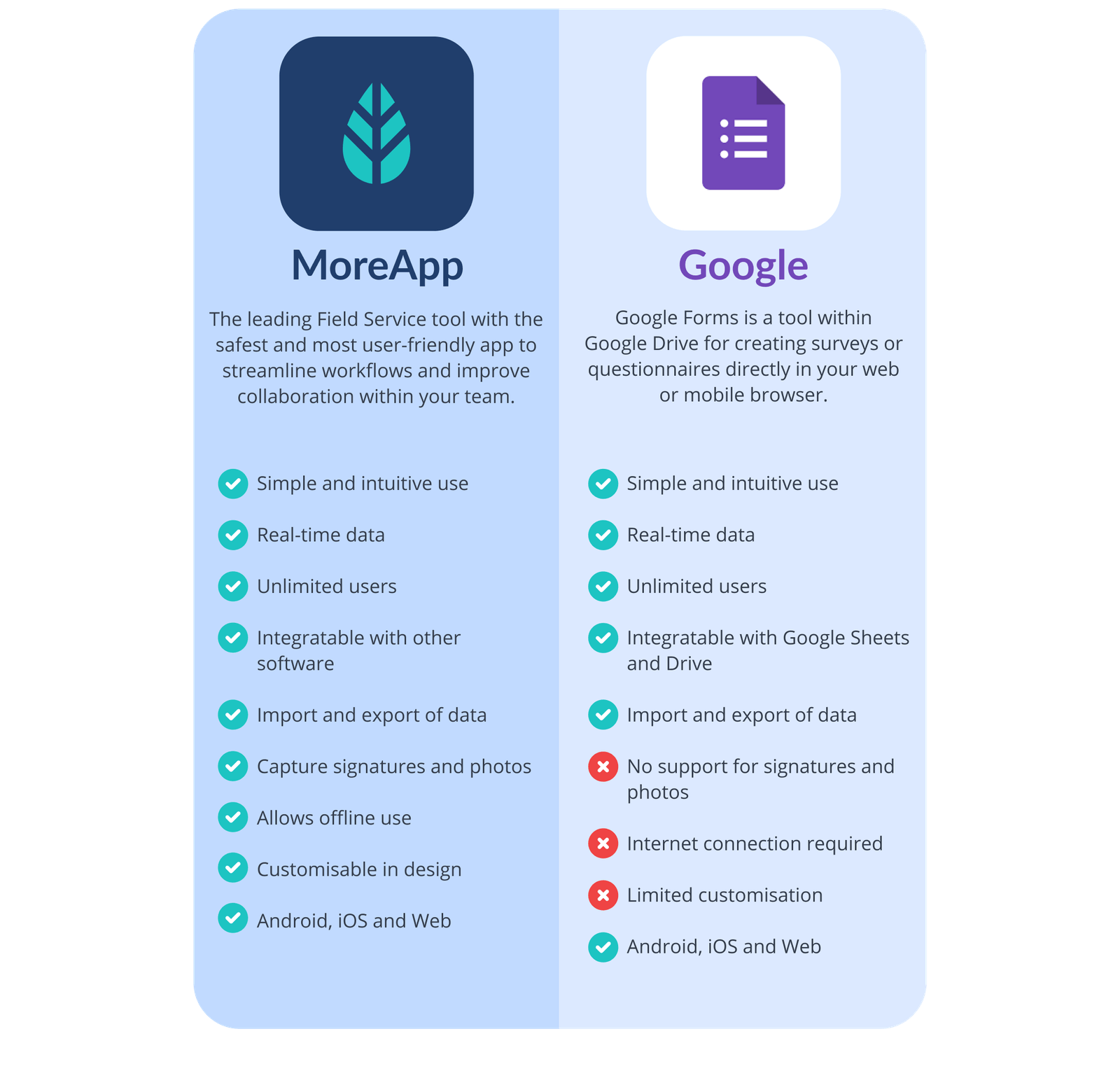 If you require digital forms with a higher level of customisation and the ability to work offline, MoreApp is the perfect solution for you.
MoreApp Forms vs. Microsoft Forms
Microsoft Forms is an online tool that allows users to effortlessly create surveys and simple questionnaires. Forms can include multiple-choice questions, scale questions, open-text questions, and much more. Additionally, they can be easily shared with others via a link or email invitation.
Below you can find a comparison of the possibilities of both tools: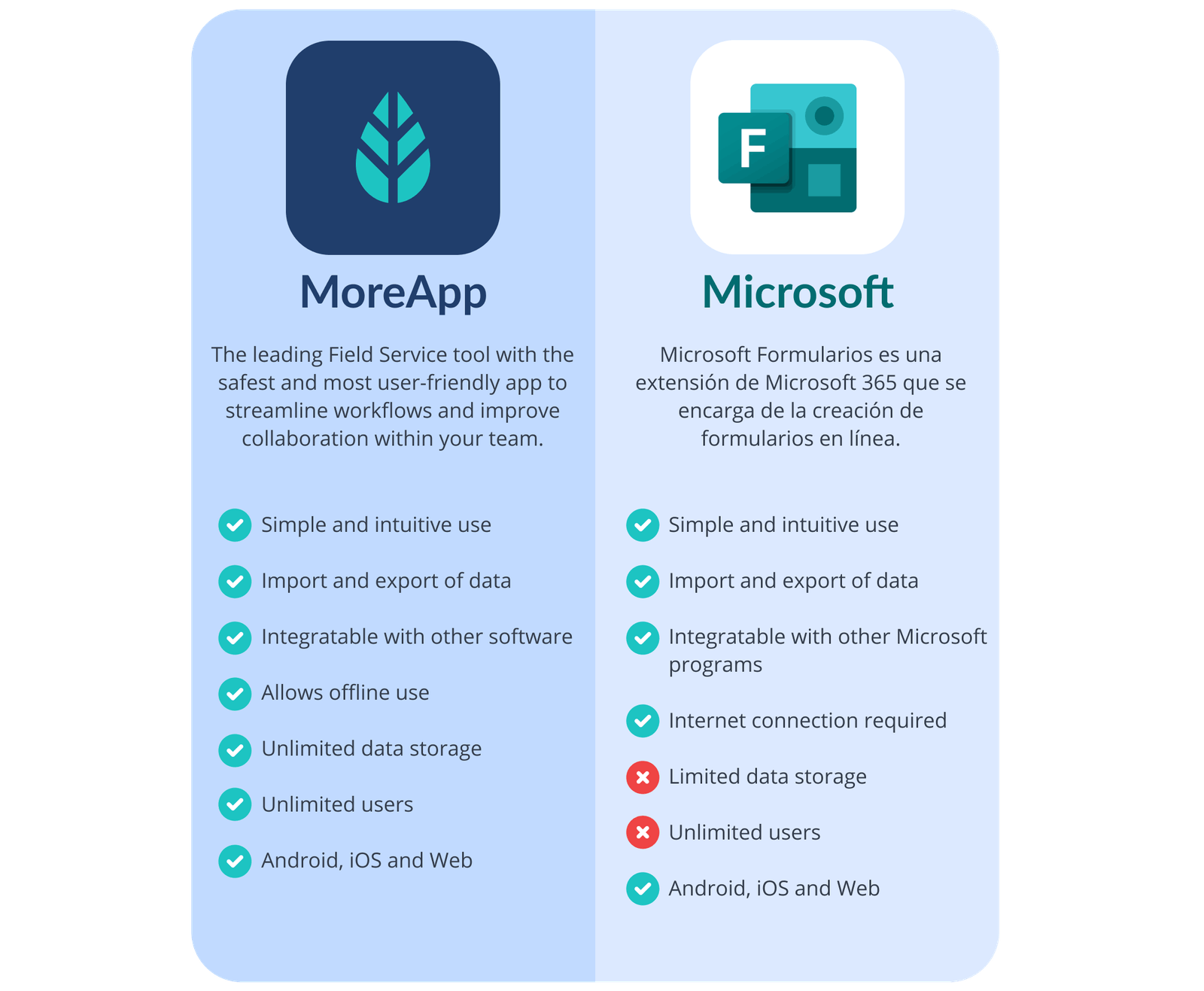 To summarise; MoreApp Digital Forms stands out for being user-friendly and highly customisable, and for the ability to work offline. On the other hand, Microsoft Forms is part of a solution more focused on creating surveys that can be easily shared with other users. The decision between these two options will depend on the unique requirements of each user or organisation.
Comparison Between Digital Platforms
Having analysed the different platforms individually, it's interesting to make a comparison between the three digital platforms: MoreApp, Access (Microsoft), and Google. The goal is to examine the various features, functionalities, and attributes provided by each of these platforms.
Below is a comparative table between the different digital platforms: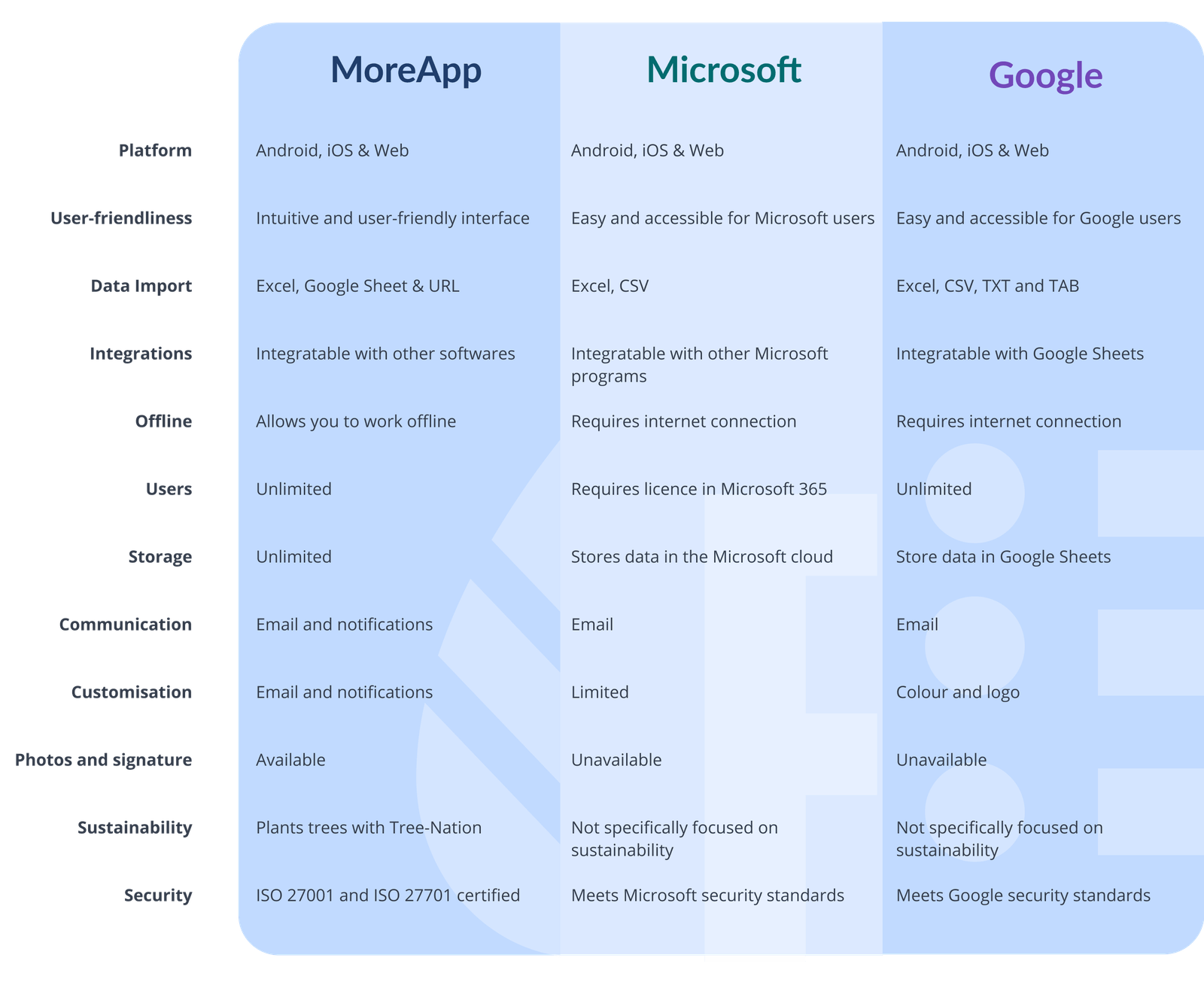 When comparing these platforms, it's essential to consider aspects such as user-friendliness, customisation, offline usage, integrations, and the ability to handle large datasets. Sustainability and environmental impact may also be relevant factors to consider when making a decision.
Regarding Microsoft and Google Forms, it's notable that both platforms are part of a broader toolset: Google Workspace and Microsoft 365 (formerly known as Office 365). This allows for smoother collaboration and cloud data storage, but it also implies certain limitations in terms of customisation, integrations, and the number of users.
Both platforms are user-friendly and have intuitive interfaces, making it easy to create quick and simple forms. However, if you are looking for more customised forms accustomed to your company's specific needs, you may encounter limitations with both platforms.
In contrast, MoreApp offers greater professionalism in form design and enhanced connectivity. The application works both online and offline, which is particularly useful in environments where internet access is not always available. Furthermore, MoreApp allows for the customisation of various types of forms, including work orders, audit reports, inspection sheets, maintenance logs, and more.
The versatility and advanced features of MoreApp make it ideal for integrating digital forms into your company's daily operations, enabling greater efficiency and productivity in data management. If you seek a flexible and customisable solution for your forms, MoreApp would be a more suitable option to consider. Additionally, MoreApp is ISO 27001 and ISO 27701 certified, meaning the company complies with the highest international standards for data protection.
If you are looking for a professional, flexible, and eco-friendly solution, MoreApp is the answer. Sign up today to streamline your operations and embrace the digital age for a more efficient future.