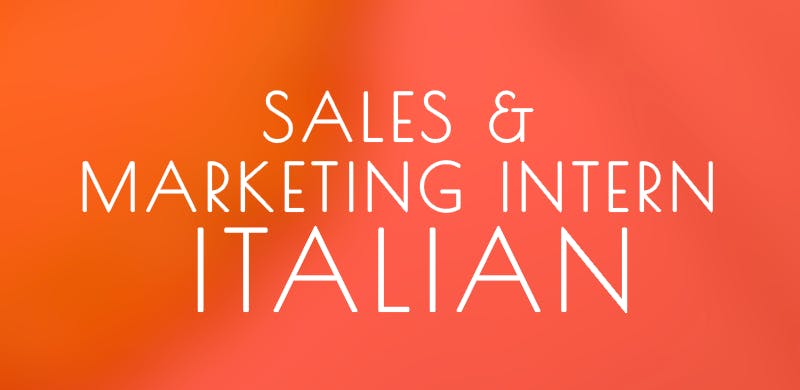 Job Offer in Barcelona: Italian Sales & Marketing Intern
As an intern for the Italian speaking market you will be given the opportunity to utilise your passion for sales & marketing and contribute to the digitalisation of business in a multicultural environment.
We are looking for an enthusiastic, curious and entrepreneurial student, who loves to learn new things. MoreApp is an app which businesses use to create and fill in digital forms. Businesses use MoreApp for inspections, surveys, work orders and hour registrations. As an intern at MoreApp, you'll work closely with our team and contribute to the sales process of developing our customer database, and assisting existing customers.
Key responsibilities
Develop sales strategy. You will analyse and develop a company sales strategy for the Italian market.
Long-term relationships. You will create long-term relationships with new signups and manage the existing customer portfolio.
Support. You will help users with the digitalisation process.
Online Campaigns. You will come up with strategies for online campaigns and make use of Google Adwords during the process.
Content. You will create, write and share content for social media.
Experience & Skills
Education. We are looking for a student with a Bachelor or Master education in the range of International Business & Languages, Communication, Business Administration, Economics or Marketing.
Communicative skills. We are looking for a student with native Italian and excellent English oral and writing skills.
Interest in driving sales. We are looking for a student who likes HELPING customers rather than selling! Yes, that's our brand promise.
Attitude. We are looking for a proactive and driven student who dares to be critical.
What we offer you
MoreApp offers you a pleasant working environment with committed international colleagues and an open-ended and loose culture. You will be given the opportunity to develop yourself on both the commercial and IT field. In Barcelona we are located in DepotLab (C/Joaquim Ruyra 9-11), next to Joanic station.
MoreApp is a Tech-startup founded in January 2013, located in Rotterdam, Barcelona and Berlin. Our international team consists of 20 young and ambitious professionals. We are proud of our open and honest culture and the perfect balance between technology and commerce. We encourage empathy, creativeness, entrepreneurship, analytical skills and the understanding of process optimisation.
Contact
Send your application (CV and cover letter) to jobs@moreapp.com 
Estimated starting date: September 2020