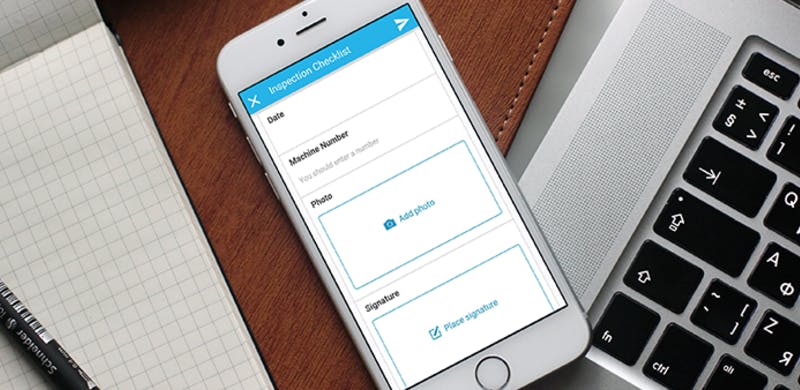 Your Inspection App with MoreApp!
Are you interested in having your own app for the workplace, health, and safety checklists that continuously have to fill in? MoreApp offers a digital form solution that will cut your inspection time in half!
People entrust their homes, businesses and workplace to inspectors, they give us the reassurance of safety wherever we are. Inspectors have plenty of responsibilities - they work on a day to day basis granting people's safety. However, traditional inspections consist of walking around with many checklists, a digital camera, pen and maybe even a heavy laptop. On top of that, the information has to be sent to the office for further processing. What a hassle!
Your Inspection App
With an inspection app, your company is able to double the daily number of inspections. The digital forms are automatically sent to your clients and the Form Builder makes creating and editing forms as easy as it gets. Digital forms are also good for the environment by decreasing the annually increasing paper waste.
You can have your own inspection app without having to invest a lot. MoreApp offers the possibility to create your own inspection app. The app will be built and supported by MoreApp but will exist as a separate app and platform with your company's house style.
However, with MoreApp digital forms there are many other benefits:
All your data is safely stored
The MoreApp platform allows you to take digital images and pin where exactly the damage is done and can be automatically sent to your clients. This saves you time from having to print, upload the images to your computer and send it to your administration office.
Customize the Form Builder to match your company house style which includes your own logo!
Fill in forms offline
Form building is easy
Unlimited amount of users can be added
Add logic with rules*
Send custom PDF's
Credits never expire
No need to re-enter data
Documentation about API integration is available for free
Pre-enter information needed to complete the form via work instructions or Excel import
Pay only for sending forms
Alphaplan, Alphaplan a Dutch construction consulting company, conducting more than 100,000 inspections in existing properties uses their own inspection app with their logo and house style. You can read more about their success using MoreApp here.
If you have any questions regarding how to create your own Inspection app using MoreApp, contact us today.
*Rules are applied in order to hide or make a field visible. For example: During a survey, if you answer a question "Yes" or "No" fields containing questions relevant to that answer appears.